Expat women living in Cadiz, Spain: Guiritanas
Living in Cadiz, Spain is an absolute joy. This friendly and sunny Spanish province bathed by both the Atlantic Ocean and the Mediterranean Sea, remains though unknown to most foreigners. Some clever, female ones however, discovered its wonders years ago and decided to stay until becoming real locals. We love them and like to call them Guiritanas.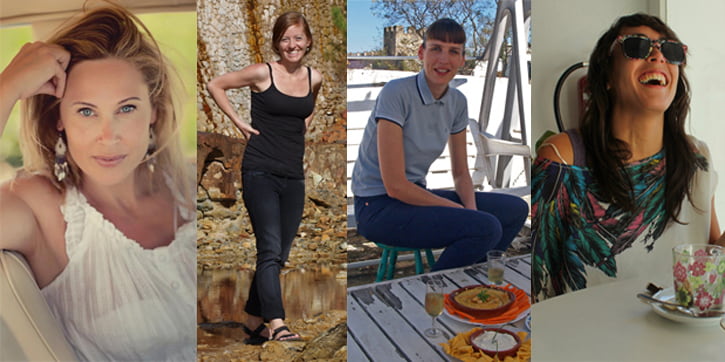 "Guiri" is a friendly term used in Spanish to name a person from a Northern European or Northern American country. "Guiris" still draw people's attention and curiosity in Spain because of different "Guiri" factors that are not so commonly found amongst Spanish natives. Then "Gaditana" is the word that describes a female native from the province of Cádiz in Southern Spain.
We have made up the term "Guiri-tanas" to name those female Guiris who settled down in this province and embraced the local culture and community until becoming real gaditanas.
In this article we asked four Guiritanas from four different countries, to explain why they fell in love with Southern Spain and how they ended up living in Cadiz. This is the result!
Marie Florido. London, UK
Living in Cadiz province since 2011 (Jerez, El Puerto de Santa María and Cádiz city).
Guiri factor: sense of style.
Works as: English teacher.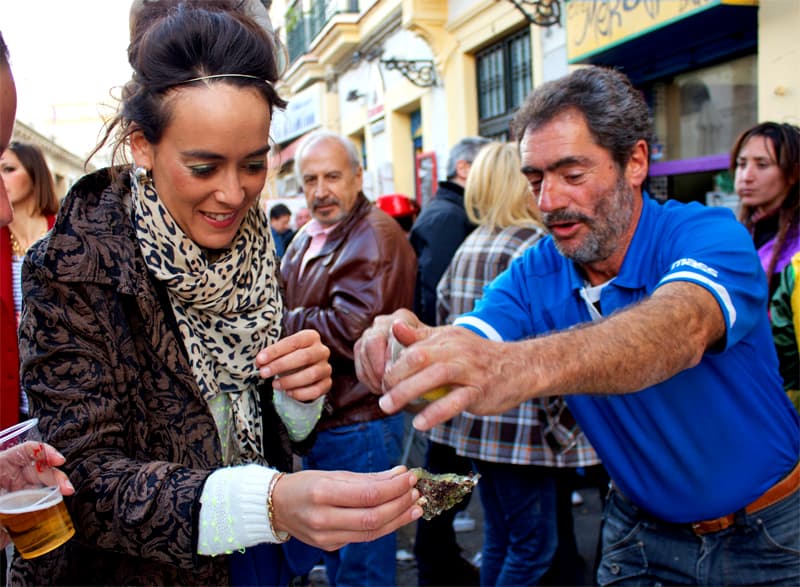 What brought you to the province of Cadiz?
I wanted to experience my roots. My grandparents were Spanish. They were born in la Linea de la Concepcion, but they moved to Gibraltar and later to London. I remember going to their house in Tottenham as a little child. My "abuela" (grandmother) only spoke Spanish, so our communication was mostly non-verbal. I remember her hugs and kisses, but I never got to understand what she said. It was then when I first thought about living in Spain and learning the language. Later I knew that my "abuelo" (grandfather) used to sing flamenco. This increased my motivation to finally make the decision to move to the province of Cadiz. I wanted to live and discover the area where my family comes from.
How did you feel when you made the move?
In the beginning it felt like being a child again, like being reborn, like starting afresh. However, many things have always felt familiar: the language and the accent remind me of my "abuela" and when I see flamenco, I remember my "abuelo".
What do you like the most about living in Cadiz?
The outdoor life. I find it amazing how here you can just be out in the street. In London it seems there always has to be a plan, a point. But here you can just be. I didn't get it in the beginning, but I now love it. I also love how people of different generations gather to eat, drink and socialise.
How have you changed your habits since you have been living in Cadiz?
I am allowing myself to be slow. I speak slower, I react slower, I live slower. I am now able to relax and not feel guilty about it.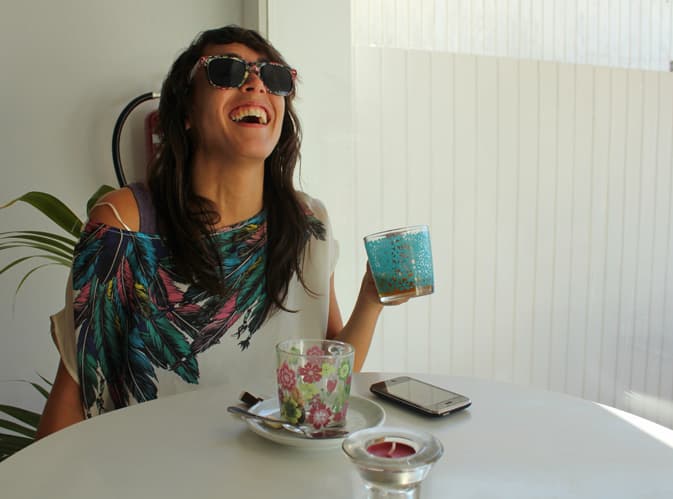 What's your favorite place in Andalusia?
The coast near Cape Trafalgar. The first time I went there, I didn't see anybody and I thought I was in another world. The feeling of space and freedom I got was fantastic. I totally forgot I was on a Spanish Beach. The concept I had of the Spanish coast was totally different.
Which Spanish song cheers you up the most?
At the moment it is "Tanguillo de María" by Ojos de Brujo. The song features my name and there's a great fusion of styles. It reminds me of London. I actually love the whole album.
Tell us a Spanish expression you love?
Te voy a comer con patatas (I am going to eat you with potatoes).
Amaryllis Bodin. Tournai, Belgium
Living in Cadiz province since 2010 (Jerez de la Frontera)
Guiri factor: she's 1.81m (5ft 11") tall!
Works as: French teacher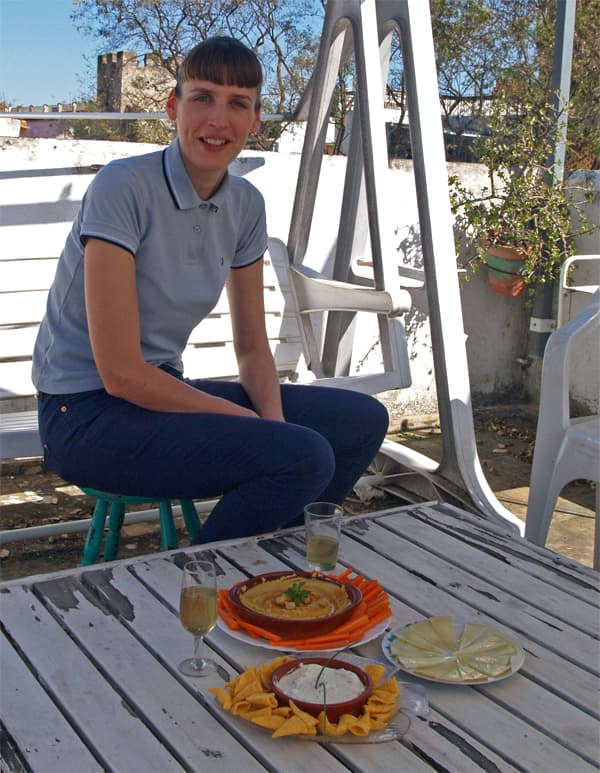 How often did you visit Spain before ending up living in Cadiz?
Jerez was the first Spanish city I ever visited. I first came as an Erasmus student for three months in 2007. Then I returned to Belgium to finish my studies and I came back in 2008. (I remember the dates well because I am a big football fan and my favorite team, Jerez football club, almost descended to the next category that year. Fortunately it didn't happen). Then I traveled back to Belgium for a few months and returned to Jerez for a training program in 2009 (Jerez football club made it to the first division that year. It was great). Finally I moved permanently to Jerez in 2010.
What made you choose Jerez as you new hometown?
I knew fairly soon that I didn't want to live and work in Belgium. However, I hadn't thought about Spain until I came to Jerez for the first time. I then saw how people take the time to enjoy life, how often they see their family and friends, how they talk and smile from the very beginning of the day… My neighbour back then used to sing every morning and I loved that. Slowly I started to see myself living here and finally went for it.
How has your lifestyle changed since you've been living in Cadiz province?
I wake up and go to bed later. I also take a small siesta when I can (well, I actually did that in Belgium sometimes too). My meals last longer. I spend much more time than before cooking and enjoying food. I often have a small tapa and a glass of wine before having lunch too… I didn't do that while living in Belgium.
Have you been to other cities in Andalusia? What's your favorite one?
Granada. I love the city, its architecture and its nearby mountains. Its culture scene is very rich and they've got free tapas. I am a big fan of Granada.
What are your favorite Spanish words?
Lately I see myself making up songs with the word "ajonjolí". I love its sound. I am also very fond of the village "Torremelgarejo". I love how its name sounds.
What local recipes have you mastered since you've been living in Cadiz?
I prepare very good "garbanzos con langostinos" (chickpeas with king prawns), "Volaores rellenos de huevo duro, jamón y gambitas" (medium-sized squid stuffed with hardboiled egg, shrimps and ham) and "salmorejo" (cold tomato soup).
Wow! Who do you share those delicacies with?
With my boyfriend mostly. We also exchange homemade dishes with our neighbour who is a really good cook and we often have people around for lunch and/or dinner.
So tell us about your favorite food and wine pairings when you go for tapas
I love a good "carrillada" (pork cheeks) with a glass of oloroso or fried squid with dry sherry (fino).
What's your favorite Spanish song?
"Un rayo de Sol" by Los Diablos. My sister came to visit recently and she also fell in love with it, so I got her the vinyl in the fleamarket of Jerez.
What's your favorite festivity in Andalusia?
Christmas in Jerez. I love the Zambombas. These gatherings in homes and in the streets where people drink Sherry and sing flamenco Christmas carols around a fire with family and friends. I love eating "ajo caliente" during Christmas time too.
What's the best part of living in Cadiz province and particularly in Jerez?
Its gastronomy and wines.
What's your favorite month in Andalusia?
April – May. The countryside looks gorgeous and the temperatures are great to enjoy our rooftop terrace. Also people get really excited about the arrival of the spring festivities, there's an extra injection of happiness in Spring. It's great.
How do you answer the phone when it rings?
Sí, dime! (Yes, tell me!)
What do your Spanish friends call you?
They call me Maripili because it's the most similar-sounding Spanish name to mine. I have got used to that and whenever I hear the name "Maripili" in the streets, I react instantly.
What do you always plan when you have visitors from abroad?
Shopping in the food market of Jerez and going, before or after, for a tapa of fried haddock to the small bar beside it.
Linda White. Oregon, US
Living in Cadiz province since 2001 (El Puerto de Santa Maria)
Guiri factor: American glamour
Works as: Art and English teacher in Rota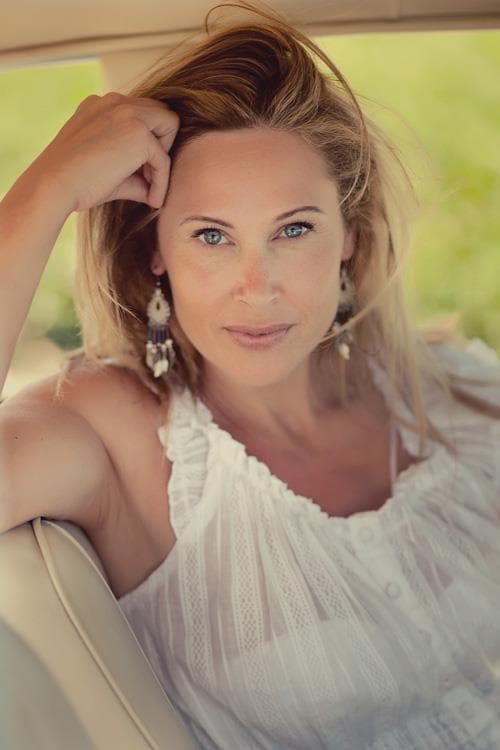 How did you end up changing continents and living in Cadiz province?
I traveled for about three years in my early twenties and I got to see many countries with an old history (although my travels didn't take me to Spain). After I came back to the States, I slowly realised that I didn't want to live there. I have always been an idealistic person and I had developed a strong desire to live overseas so I began to apply for jobs in warm countries (I have to admit that I am a sun seeker too). Then I got a post as an Art and English teacher in Rota.
That was in 2001… What has made you stay in Southern Spain?
I have always been attracted to old towns, art, ruins, antiques, vintage objects…I like the melancholy they transmit. You should see me peering through key holes of abandoned palaces to see what they are like inside…
The age and history of this area appeal to that nature in me. This combined with a wonderful weather and a job that I like makes me enjoy my life here very much.
What Andalusian habits have you acquired since you've been living in Cadiz?
I love to take a siesta although work rarely allows me to do it. I adore shopping for fresh produce in the food market on a Saturday morning. It really makes me feel part of the community. I also love to buy flowers, garlic and clams from the street vendors. You feel that there's an amazing wealth of life on your doorstep.
You have been living in Cadiz for many years so I'm sure you know the best hidden spots. Which one is your favorite?
Santa Lucía, near Vejer. I used to go there very often before it started to be more popular. Nevertheless, the nature is beautiful there, there're fresh Springs, the most amazing starry skies and you can see the moon rise behind the mountains.
You have shown your sensitivity to art, architecture and nature. What about Spanish music?
I go every year to Cadiz carnival on Sunday to enjoy the festive atmosphere and to hear the carnival choirs singing their songs in the streets. However last February I saw something I had never seen before: this "chirigota" (a carnival choir) started singing about Paco de Lucía and a bigger and bigger audience gathered beside them. Everybody listened intently throughout the song without making a sound. They all were reduced to silent tears in the middle of a street party. This switch from joy and frivolity to melancholy was very intense.
What's your favourite month in the province of Cadiz?
April. The countryside looks its best and the air fills with a festive scent.
What local tapas have become your favorite?
I enjoy the combination of sweet and savoury. I used to order dates with bacon a lot. At the moment I am into more basic flavours. I have become a deep lover of anchovies. They go great with a cold beer.
And your Spanish specialty?
Tortilla de patata (Spanish omelette) and pisto (pisto is a similar dish to French ratatouille)
What's your favorite festival or festivity in Andalusia?
The penitence at Semana Santa. The dragging of the crosses and the chains, the incense, the candles, the sculptures… I hadn't seen this religious fervor anywhere else and it's beautiful. Those trumpets during the processions… They bring tears to my eyes.
I am also a feria queen. When the season starts I go from feria to feria. I do them all…Jerez, El Puerto de Santa María, Sanlúcar, Rota…I have multiple flamenco dresses.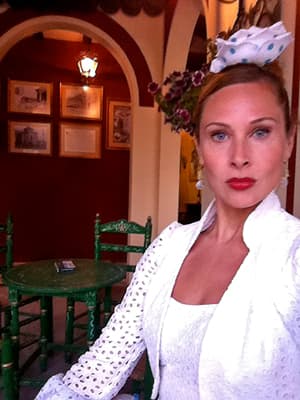 How do you answer the phone when people call you?
Hola-hello?
What plan do you always go for when you have visitors from abroad?
A country drive.
Diana Steffens. Berlin, Germany
Living in Cadiz province since 2008 (Tarifa, Jerez, Cadiz city, El Puerto de Santa Maria and Chiclana de la Frontera)
Guiri factor: red hair
Works as: key account manager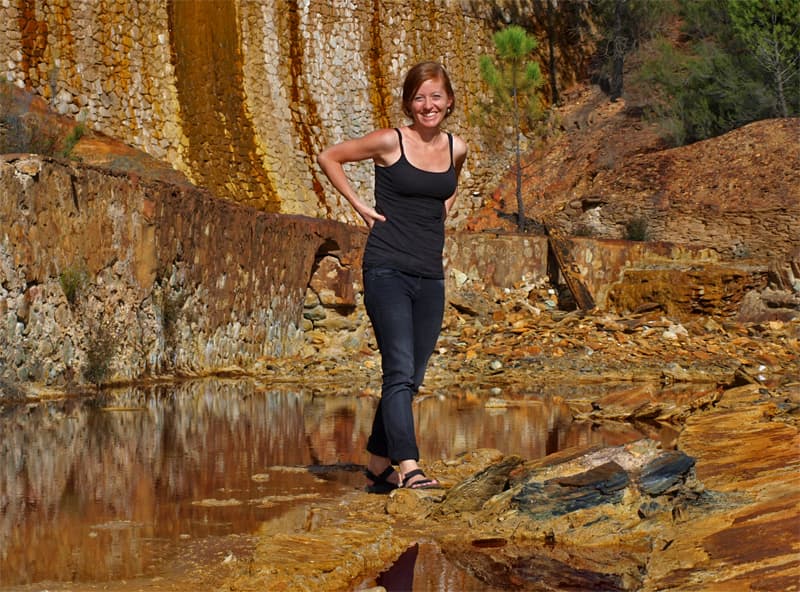 How have you ended up living in Cadiz?
I guess my instinct brought me here. I always knew that I wanted to live in Spain. During my studies, I spent some time in Murcia and Madrid. Later I came back to Spain for a three-month internship. This time to the province of Cádiz, and I knew I would stay. It was my decision from the beginning. I was first in Tarifa but I didn't think it was the right place for me, then I stayed in Jerez for a short period and finally I ended up in Cadiz old town. I felt it was the right place for me. Then I started exploring the province and I fell in love with it.
How have you changed your habits since you've been living in Cadiz?
My eating times have changed drastically. I often have dinner at 10-11pm and this is not a normal eating time for a German. Also, my dinners in Germany where rather light whereas here, they are not. I am a little lazier here too. In Germany I was more disciplined with myself. I did a lot of exercise. I have relaxed significantly since I have been living in Cadiz.
What tapa do you order most frequently?
I have my favorite tapas bars in Cadiz old town. Some delicious choices are Tuna in lemon sauce and tuna Rota style…I love tuna. A glass of tinto de verano and a little tapa of tuna makes me happy.
Can you cook Spanish then?
Sure! I cook often. I love making tuna stews, chickpeas with squid, pisto… In the summer there's always a big jug of salmorejo in my fridge.
What's you favorite place in the province of Cadiz?
The stretch of coastline between Chiclana and Tarifa. Here you can still find some unspoilt beaches, which are totally surrounded by beautiful nature. I often try to go there in the summer time. But my favorite city will always be Cadiz and its old town. Definitely. It's a small town and an island too. Since it's totally surrounded by the ocean, it makes me feel free and happy. Its history inspires me very much. On top of that, it has an interesting architecture.
What's your favorite Andalusian culture event?
I'm not very much into religious celebrations really. However, I try to join other culture events like music festivals, food fairs and open doors days. You can learn a lot about the gastronomy and history of each region of the province. I love to discover new places and secret corners.
What Spanish music do you like?
I have many friends who work in the Southern Spanish music scene. I often listen to their albums. They bring good memories. When I first came to Spain, I went to a lot of concerts. I also like a classic Spanish song from the eighties, called "La chica de ayer".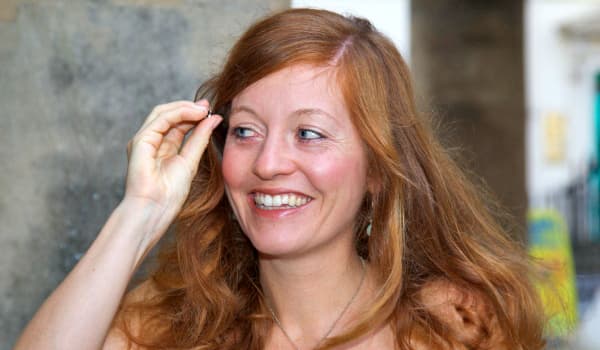 What do your Spanish friends call you?
La Pelirroja (red-haired girl)
What are you favorite plans when you have guests from abroad visiting you in Cadiz province?
First I show them the beaches, a trip to Bolonia, a walk through Cadiz old town, a stroll around Vejer, a day visiting bodegas in Jerez and some good tapas in Sanlucar.
We hope you enjoyed the stories of our beloved Guiritanas. We believe that the province of Cadiz is a very welcoming territory, ideal for both living and having a memorable vacation.
We are a Southern Spain travel planner, offering private tours of Andalusia and beyond for very small groups and families willing to have a memorable time in our homeland. We are specialised in the province of Cadiz and we invite you to keep learning about it!
Discover the top 10 genuine experiences to live in Cadiz

About the author
Iván Ricoy is a travel agent for Spain trips specialised in the Southern region of Andalusia.