Cadiz and the Americas

|

walking tour
Cadiz is known for being one of the oldest cities in the world and the colonial gem of Southern Spain. Its optimum location for maritime trade has resulted in various historical periods of extreme wealth. These are fascinating to discover with a walking tour through the old town.
The most glorious of these periods started in the early 18th century when Cadiz held the monopoly of all trade with the Americas, formerly established in Seville.
This attracted many wealthy merchants from different parts of the world who settled down in the city, opening a new era in its history.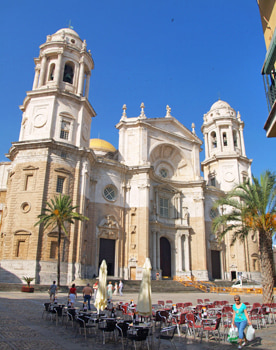 Cadiz experienced then some very important changes and quickly became an exclusive cosmopolitan hub for the emerging international bourgeoisie.
The city keeps much of the colonial charm of those years, also found in other colonial cities across the Atlantic such as Havana, San Juan, Cartagena de Indias and Montevideo.
With this walking tour of Cadiz we will enjoy the beauty and magnificence of those years by walking through the streets, squares and parks of the quarters where the wealthy merchants used to live.
We will also venture into some unique buildings to discover the city's best kept art and interior architecture secrets.
Cadiz is also famous for being a tapas paradise. We will help you to understand why by taking you to taste some delicious local dishes.
This tour is ideal for people willing to make the most of their time in Cadiz. You will be able to see in one day the most beautiful quarters of the city and to discover the wonderful gastronomy of its best tapas bars.
Technical details of this tour:
Duration: the tour lasts for approximately 5 hours, from 9:30 till 14h30 (contact us if you would like us to reschedule this tour for you)

Availability: from Monday to Saturday

Group size: minimum 1 person, maximum 8 people.

Meeting point: by the main door of the Town Hall. We can also meet you at your hotel if you are staying in Cadiz, at the train station if you are coming by train to spend the day or at the Harbour if you are coming on a cruise ship.

Prices: start at 60 Euros per person (incl. VAT) for a group of 8 people.

Includes: your personal local expert throughout the itinerary and all entrances.

Excludes: lunch.

Payment: credit card, paypal or bank transfer

Note: this tour is not available on December 25th and January the 1st

Covid-19: this tour incorporates the corresponding covid-19 protocols.