Hidden gems of Seville

|

day trip
Seville features three World Heritage Sites that are an ideal introduction to its fascinating history and stunning beauty. Then, in order to get a better understanding of its particular character and uniqueness, it is essential to also experience its iconic quarters and discover their hidden gems. And this is what this day trip to Seville is about!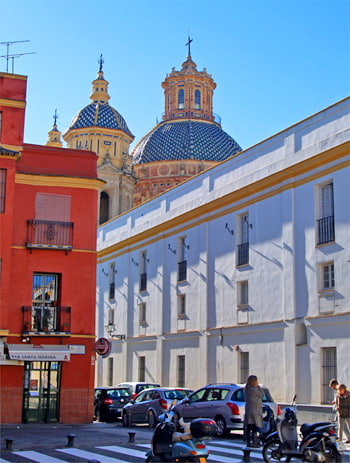 Upon arrival to Seville from your accommodation, we will walk first through its UNESCO section. It is in this area of the city where we will learn about its Cathedral, Royal Palace and about the Archive of the Indies.
After this introduction to the grandeur and beauty of Seville, we will take you to the nearby areas of the town centre where Sevillanos actually live and exercise their hectic social life.
This will give us the opportunity to take in the local vibrant atmosphere and also the history and evolution of the city that became the centre of the world after the discovery of the Americas.
During our walk, we will see beautiful living evidence of the town's wealthiest period and experience some of its most representative local traditions too.
We will also have some fun encounters with the local community. This will give us an interesting insight on their outlook on life.
Food and wine will also have an important role during our immersive exploration. Tapas bars and ancient taverns are probably the most common local hangouts and we will experience their food, wine and joyous atmosphere.
This day trip is ideal for people staying in other locations in Andalusia wishing to spend the day in Seville. It includes private transportation in a modern and comfortable vehicle with A/C to and from your accommodation. Your personal guide and driver will pick you up in the morning and will drive you back in the late afternoon after spending a great day together discovering the hidden gems of Seville.
Technical details of this tour:
Duration: the tour lasts for approximately 8 hours, from 9h till 17h (contact us if you would like us to reschedule this tour for you)

Availability: from Tuesday to Sunday

Group size: minimum 1 person, maximum 8 people.

Pick-up point: your hotel in the Jerez – Seville area (contact usfor other pick-up points)

Prices: start at 150 Euros per person (incl. VAT) for a group of 8 people.

Includes: private guide and driver throughout the day and all entrances.

Excludes: lunch.

Payment: Credit Card, PayPal or Bank Transfer.

Note: this tour is not available on December 25th and January the 1st

Covid-19: this tour incorporates the corresponding covid-19 protocols