The White Villages of Andalusia

|

day trip
The white villages or "pueblos blancos" are some of the most idyllic places that Andalusia has to offer and they are worth at least one day of your Spain trip itinerary.
Concentrated mostly in the province of Cadiz, these sleepy, whitewashed towns rest peacefully on historically strategic hilltops amidst the fertile valleys of rural Andalusia.
If you enjoy exploring beyond main cities to get a better understanding of a country and its people, you're in for treat with a day trip to the white villages of Cadiz.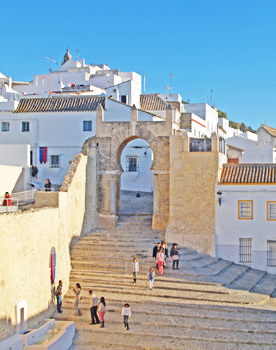 This day trip that we have carefully curated for our guests will take us to the white villages of Arcos de la Frontera and Medina-Sidonia.
We will start our journey driving first to Arcos de la Frontera, or simply "Arcos". There we will enjoy a unique mix of houses of traditional Hispanic-Muslim architecture and grand historical landmarks, erected after the Christian conquest by wealthy aristocrats, knights and religious orders. This will provide us not only with a beautiful walk through its old town but also with an understanding of its fascinating history.
From Arcos, we will drive to Medina-Sidonia, also known as "The Balcony of Cadiz" for its impressive views over this province.
Nowadays famous for its gastronomy and delicious homemade sweets, Medina Sidonia was an extremely important city during Roman times and the capital of one of the independent kingdoms that formed in Muslim Andalusia.
We will have lunch in Medina-Sidonia to later take a walking tour of the village and see some very well preserved evidence of the presence of these two cultures. You may also like to indulge into the traditional sweets of Medina-Sidonia to have a sweet ending to this day trip to the white villages.

This day trip is ideal for people staying in other locations in Andalusia wishing to visit two white villages in one day.
It includes private transportation in a modern and comfortable vehicle with A/C to and from your accommodation. Your personal guide and a dedicated driver will pick you up in the morning and will drive you back in the late afternoon after spending a great day in the white villages of Medina Sidonia and Arcos de la Frontera.

Technical details of this tour:
Duration: the tour lasts for approximately 8 – 9 hours, from 9h till 17h – 18h (contact us if you would like us to reschedule this tour for you)

Availability: from Monday to Sunday

Group size: minimum 1 person, maximum 8 people.

Pick-up point: your hotel in the Jerez – Seville area (contact us for other pick-up points).

Prices: start at 135 Euros per person (incl. VAT) for a group of 8 people.

Includes: private guide and driver throughout the day and all entrances.

Excludes: lunch.

Payment: Credit Card, PayPal or Bank Transfer.

Note: this tour is not available on December 25th and January the 1st

Covid-19: this tour incorporates the corresponding covid-19 protocols