Walking the Genal Valley

|

3-day itinerary
This three-day walking tour of the Genal Valley will allow us to enjoy the natural wonders of the area, its food & wine scene and some meaningful encounters with its local community.
The Genal valley is one of the most picturesque and least explored rural areas of Andalusia. Located between Ronda and the Mediterranean Sea, this remote valley treasures gorgeous rivers of crystal-clear waters and lush forests of chestnut, oak and Spanish fir trees, making an ideal spot for hillwalking.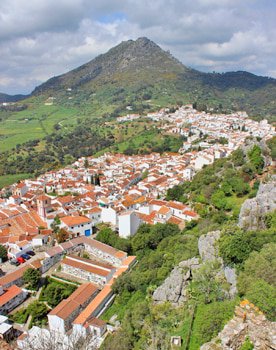 The Genal Valley is also spotted with cute little whitewashed villages of Hispanic-Muslim origin. Around these white villages, small wineries, little farms and fertile crops taken care of by friendly locals, make this little corner of Andalusia a self-sufficient region with a great food & wine scene.
First day of the tour
On the first day, we will transfer you from your Southern Spanish airport of arrival to your base village for this tour, located in the heart of the Genal Valley.
Upon arrival and after checking into the boutique hotel that will be home for the next three nights, you will be taken on an introductory walking tour of the village. This will be ideal to discover its surprising landmarks, to get familiar with the local history and pace and to learn about its best food spots.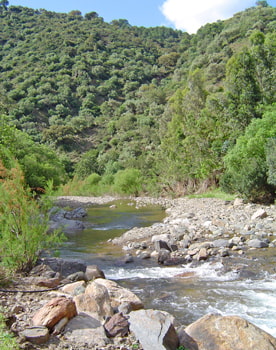 Second day of the tour
On the second day, your personal local host and your dedicated driver will meet you at your hotel and together you will take a short drive to the start of your first hike of the tour.
This first hike (10,5Km – 7mi) of the Genal Valley will take us through a forest of cork-oaks first. There we will learn about the local cork industries and how they support the many boutique wineries of Ronda. Along the way we will find several old ruins that will reveal very interesting facts about their past dwellers and their lifestyles. We will also find heavenly river spots, where you may want to take a wild swim.
On the last stage of our route we will join a mountain trail maintained by the locals, that has a curious and ancient system of gutters. This first hike will finish in a unique village, where we will enjoy a well deserved local lunch.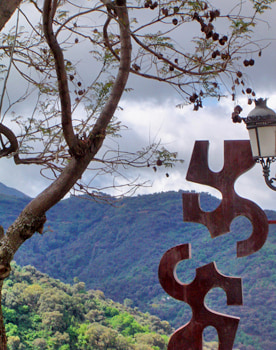 After lunch, we will walk-off our food by taking a small tour of the village with a special focus on its unique collection of outdoor contemporary-art pieces. Then, we will drive back to the hotel in the base village.
Third day of the tour
On the third day, our driver will take us to a different section of the valley for a hike of 6,5Km (4mi).
Our second hike of the Genal Valley will take us first through small plots of almond, cherry and olive trees as well as some vineyards. Later, pine and oak trees and different species of rockrose will accompany us until the end of the hike in another village.
There, we will take a walking tour aimed at meeting different people with different roles in the dynamics of the village. We will learn about their activities and their stories in different representative locations of the village, gaining an understanding of what life is like in the Genal Valley.
Our discovery journey of the village will finish in a small local winery, where the owner will offer us a wine tasting as well as a home-made lunch paired with his wines. This will be the icing on the cake for the day, before driving you back to your accommodation in your base village.
The following morning, after checking out from your hotel, we will drive you to your airport, station or destination of choice in Andalusia.
This tour of the Genal Valley can accommodate a group of between 2 and 8 lovers of the great outdoors. It includes private airport transfers from and to Malaga, Seville, Granada or Jerez airports, three nights accommodation in a selected boutique hotel, an introductory guided tour of your base village, two stunning hikes with your own private guide, the necessary private transportation services, two lunches and two walking tours of two different villages.