The Romantic Travellers in Andalusia

|

9-day itinerary
This 9-day itinerary of Andalusia has been designed for those wishing to experience and learn about Southern Spain like the Romantic Travellers did in the 19th century during their Grand Tour.
These travellers came to Andalusia to learn about the links between its history, people's lifestyles and their environment. They observed and studied Andalusia based on inspiration, instead of judging this Southern Spanish territory upon idealised success.
It was the ability of Southern Spanish people and places to generate emotions through authenticity and beauty what they discovered, experienced and documented during their travels through Andalusia.
This 9-day itinerary of Andalusia will allow our guests to understand how the different cultures that have lived in Southern Spain throughout history have shaped its unique architecture, breath-taking landscapes, fabulous gastronomy and living traditions.
The tour starts in Seville, where we will have our first contact with the culture, the architecture and the inspiring history that will accompany us along our journey.
From Seville we will move towards the province of Cadiz, where we will have an immersion into the gastronomy and wines of Southern Spain, through fun and meaningful encounters with the local community.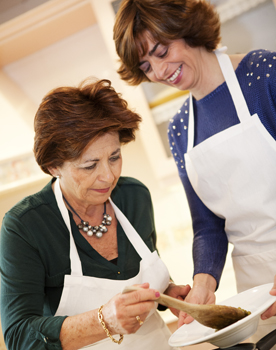 We will learn about the production and enjoyment of Sherry wine. We will also enjoy a cooking class in a very special kitchen and watch a flamenco performance in Jerez, the cradle of this iconic Southern Spanish music.
The province of Cádiz will also offer us the beauty of the natural park of the strait of Gibraltar and the quaint whitewashed village of Tarifa, the Southernmost point of continental Europe, just 14km away from Africa.
From Tarifa, we will head north through mountainous rural areas until reaching Ronda. Its outstanding location at 740 meters above the sea level on the edge of a dramatic gorge made it one of the highlights on the Grand Tour of the Romantic Travellers. Furthermore, Ronda will show us amazingly preserved evidence of Andalusia's Muslim past.
From Ronda, we will travel to Granada to see the majestic Alhambra and the iconic quarter of El Albayzin.
Granada was the last bastion of the Hispanic-Muslim culture and it is the Southern Spanish city where its exotic footprint is most present. Besides, Granada is a tapas paradise and we will experience this typically Spanish eating fashion through our favourite bars and taverns.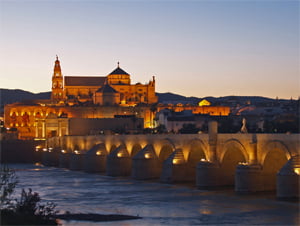 Then we will travel to Cordoba where we will learn how Jews, Muslims and Christians coexisted in harmony in the lower medieval times turning the city into an intellectual hub that became the first capital of Muslim Spain.
In Córdoba we will see the Great Mosque-Cathedral. This is definitely the most amazing and thought-provoking temple ever erected in Spain.
Córdoba will be our last stop before transferring you to your departure airport. On the last evening there we will have a farewell dinner to review a collection of enriching experiences that will surely generate a rewarding feeling of inspiration, enrichment and understanding of the Spanish culture.
This tour can take up to 8 people and it is ideal for a group of friends or a family wishing to enjoy unique and beautiful opportunities to come into contact with the Southern Spanish culture during their holidays.
It includes the services of your personal guide and a dedicated driver throughout the journey, all entrances to the sites and tour visits as well as full accommodation in great hand picked hotels and some carefully selected meals in wonderful local restaurants.