Examples of beautiful simplicity in Andalusian White Villages
The Andalusian White Villages, in South West Spain, are lovely examples of beautiful simplicity. The beauty of these White Villages starts in the richness of the nature that surrounds them, in the lovely landscapes that they offer and of course in their charming historical and architectural heritage.
The windy and steep streets of these villages allow us to discover, through their quaint architecture and quirky urban planning, many aspects related to the lifestyle of their past and present inhabitants. We only have to relax, keep our eyes open and observe the curious features that seem to be there to tell us something…
Most Andalusian White Villages (or "pueblos blancos" in Spanish) have something unique that the locals are most proud of. In this post, we will explain one of those unique features… It may have already caught your attention, if you looked at the pictures before reading this.
We are talking about the decorated floors of the entrances of these houses. They are called "llanos" (flat patches).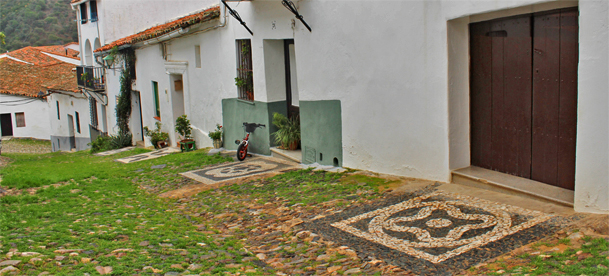 These traditional manifestations are very much related to the lifestyle of many Andalusian towns and villages.
As you may have seen, the streets of this White Village are very steep and uneven. So this would make very difficult to safely place a chair or two just outside your front door. This is a very common habit in Andalusia because people conceive these spaces as part of their houses and, in the summer, after the sun sets, they like to sit outside end enjoy those hours when temperatures reach the most pleasant values of the day.
These "llanos" (flat patches) feature very simple and pretty bi-color patterns that we show in the following pictures. You can click on them to enlarge.
This practical and beautiful way to provide a safe and comfortable surface where to place a chair or two outside people's front doors is still very popular in this village and it's generating an important demand in the area.
In Andalusia, we love and very much enjoy the beauty of simplicity. The Andalusian White Villages are filled with examples showing this and we love to share them with our guests during our tour of The White Villages.
Come on tour with us and experience the wonders of our homeland from a local and respectful perspective. Comfort, beauty and authenticity guaranteed!