Genuine Andalusia shortlisted for the Luxury Travel Guide awards 2016
We have some very exciting news to share!
Genuine Andalusia has been shortlisted for the Luxury Travel Guide Awards 2016!
We recently knew through the team of the Luxury Travel Guide that we've been nominated as a potential winner in the 2016 Holiday & Tour Specialist Awards: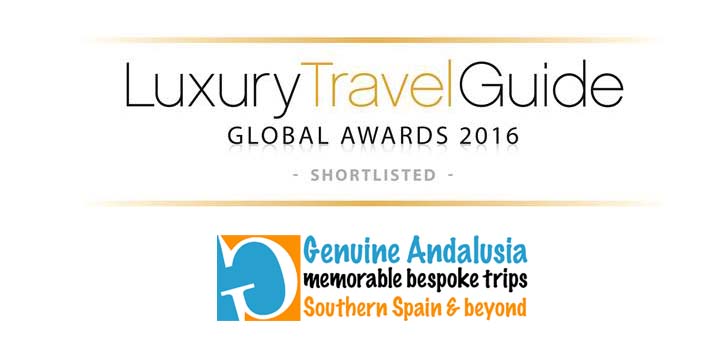 "The Luxury Travel Guide are pleased to announce Genuine Andalusia has been nominated as a potential winner in the 2016 Holiday & Tour Specialist Awards.
Over the past 12 months we have been receiving votes for individuals & companies throughout Europe, with our subscribers, hotel guests, travel agencies and industry experts all voting on who they feel is most deserving.
Celebrating & rewarding excellence in many areas, these awards recognise companies regardless of size or location across categories including:
Service Excellence
Local Knowledge
Online Visibility
Use of Technology
Marketing & Branding
Employee Satisfaction
Cultural Understanding
Diversity
Communication Skills
Disability Provisions"
We are so happy to have been taken into consideration for this award by The Luxury Travel Guide and would like to say an immense GRACIAS to all the guests we have had so far.
Thank you for choosing Genuine Andalusia to experience the essence of Southern Spain through our custom private tours based on authentic local experiences. Thank you for making us learn. Thank you for letting us share our passion for our culture, history, architecture, food, wine, outdoors and nature with you. Thank you for your feedback and for your gratitude.
2015 has been an amazing year indeed. We have had the opportunity to host incredibly interesting, motivated, kind and thankful guests from The United States, Australia, Hong Kong, the United Arab Emirates, Malaysia, India, the Philippines, Cuba, England, France, Belgium, Germany, Colombia, Mexico and Spain.
We love what we do, we love to meet people and to treat them as relatives or friends. We love to take them to our favorite places, to help them understand what Spain is and why we love living and working here.
We're already working with much enthusiasm on some new special Andalusia private tours and look forward to welcoming many more guests in the future!