The story of a great friends trip to Southern Spain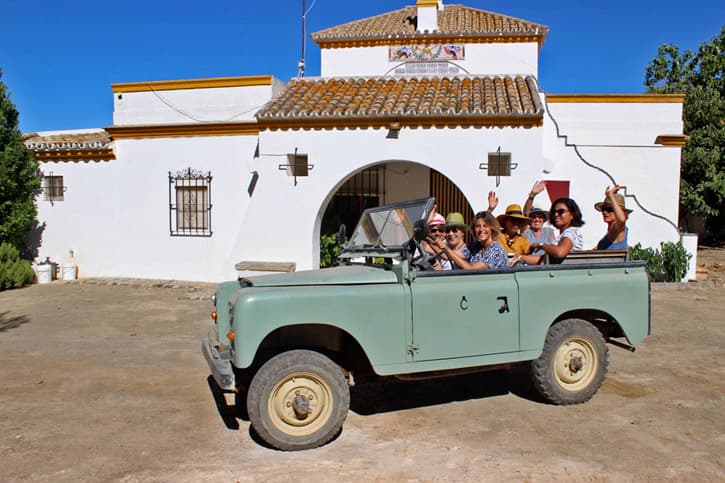 In Genuine Andalusia, we get all excited when we receive a request for a customised friends trip to Spain. As a Spain Travel Planner Specialist, these enquiries are amongst our favorite!
In this article we tell the story of a great friends trip to Spain that we planned for Ana. A Spanish bride who wanted to spend a memorable day with her best foreign friends in Andalusia just before her wedding.
When we receive a request for a custom tour, we always encourage people to open up and tell us not only what they want to do, but also what they would like to get out of it.
Ana's custom tour request was very special and meaningful. She explained to us that she was going to get married in Andalusia and that she had invited a small group of close friends to the wedding, most of them from abroad, with whom she wanted to spend a very special day just before the wedding.
We all know how little time the bride has to actually talk and spend time with her friends during the actual wedding. So this revealed a remarkable level of generosity from Ana.
She appreciated the effort that coming to the wedding meant for these foreign friends. Because of this she wanted to express her gratitude by spending some precious time with them just before the wedding. So she thought of a custom day tour with Genuine Andalusia.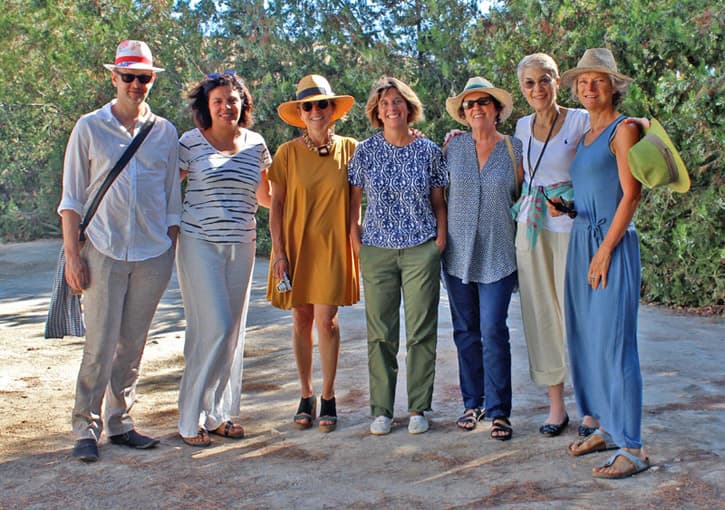 She said to us that she wanted to share with them her favorite aspects of the Southern Spanish culture, keeping a local and authentic perspective.
She wanted them to experience the countryside where brave bulls are bred and the beauty of these animals. Also, she wanted them to enjoy the traditional architecture of Andalusia and to see the Spanish purebred horses. The tapas culture, sherry wines and flamenco music were also things she wanted them to experience… And all this in one day!
When people come to Southern Spain from far away and they have a limited amount of time to spend in the region, they of course want to make the most of it.
We believe that using an incoming Spain Travel Planner Specialist is the wisest option for a great friends trip to Spain.
We totally understood Ana's wishes. So we said to her: yes! We'll do it! And we started the necessary trip planning for her and her beloved group of friends.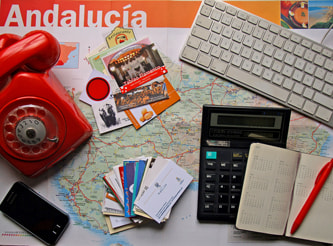 We then contacted a few of our friends: a passionate farmer of brave bulls in the countryside near Jerez, our favorite private host in the Royal School of Equestrian Art, the kindest Sherry ambassador ever, the owner of a great local restaurant in town and the most honest and talented local flamenco performers we have ever known.
We told them Ana's story and her wishes and they all understood them very well. Everybody got involved in the project from the very beginning.
So after a few days of Spain trip planning, we had a group of passionate local hosts waiting to welcome a close group of friends, in their houses, businesses and work places.
They all had one clear goal: to share with Ana and her friends, and to make them experience, the essence of Southern Spain.
And the day finally came… We started picking up our guests from their accommodation. They were from four nationalities: USA, France, Cuba and Spain. Their attitude was fantastic from the beginning.
After greeting them and introducing ourselves, we drove off to our first destination: a farm of brave bulls in the countryside. Along the way, we were very surprised with how sensitive everybody was.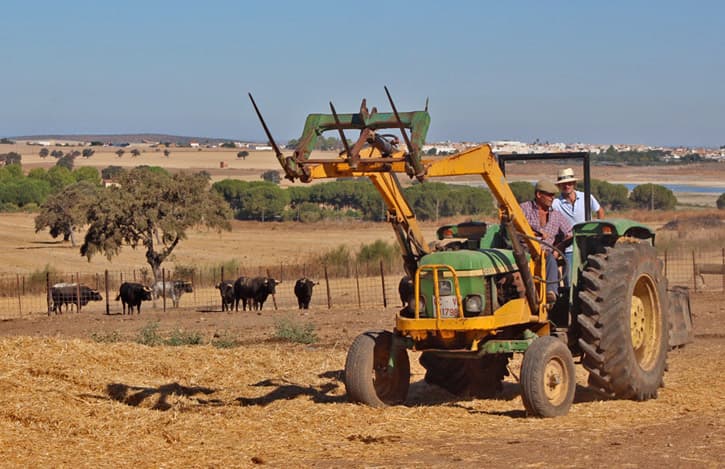 They all commented on the colours, the lines and the shapes of the rolling hills we drove through. They asked about the local agriculture and farming of Andalusia, about its history, its traditions, about its present…
We were extremely excited! There's nothing we enjoy more than sharing with guests our knowledge and passion for our homeland. And we had a very exciting program ahead!
Once we arrived to the bull farm, the owner gave us a warm welcome. Then she showed us around the property and told us about its architecture and history.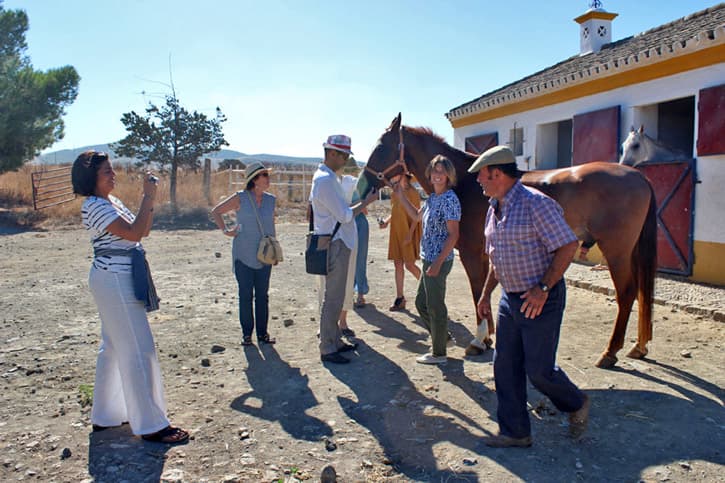 After that, she explained how brave bulls are bred, how they live and the complexity of running a farm where also many other agricultural and farming activities take place.
We of course took them to see her beautiful brave bulls from a very close perspective!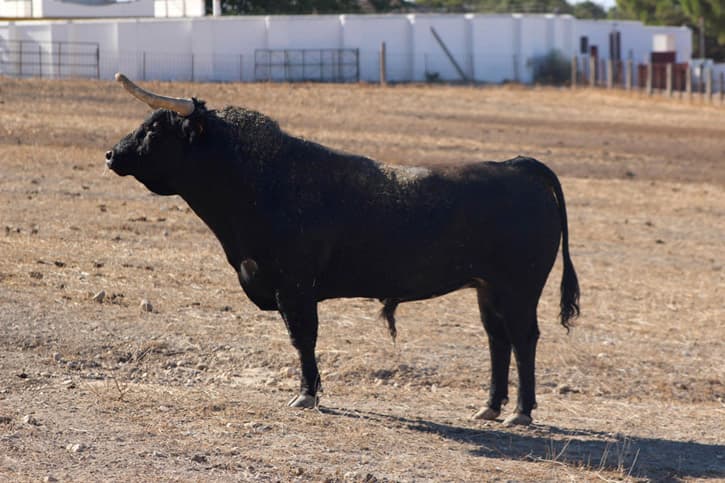 We love connecting travellers and locals and the beautiful culture exchange that it triggers.
This was a lovely example, with which everyone got to learn about one of the most important traditions of Andalusia. Also it was a brief immersion into one of its most important economic activities: agriculture.
With all the knowledge acquired in the bull farm, we took our guests to see another beautiful animal from Spain: the Spanish Purebred Horse.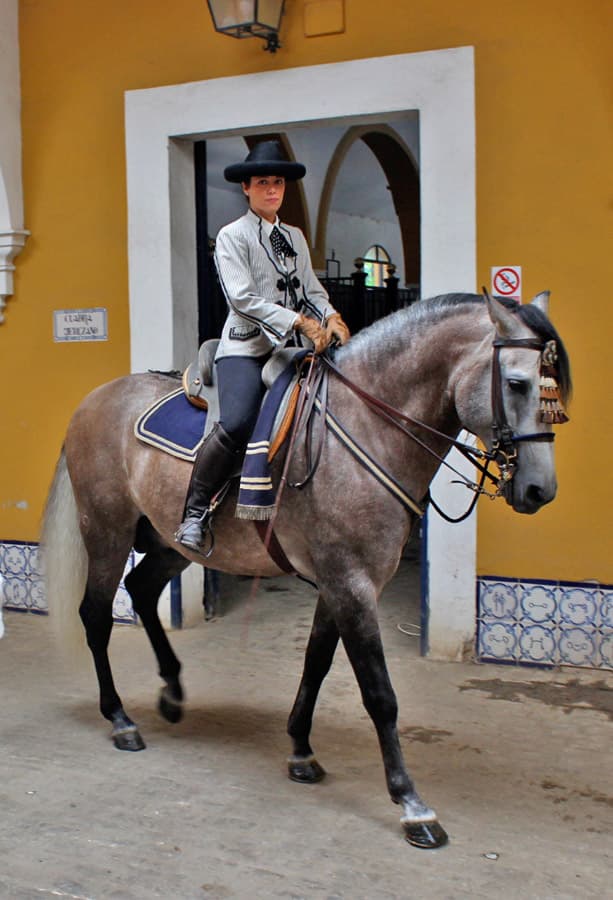 This was in the Royal School of Equestrian Art in Jerez. There they enjoyed the impressive show where the horses dance to lovely classical music.
Did we say that our guests were very sensitive? During the show, we saw one of our guests in tears. She was immensely moved by the nobility and elegance of these animals.
In the Royal School of Equestrian Art, we also gave the first surprise to the group! During the interlude of the show, we took them privately to the backstage. There they could see the horses, the riders and the stables behind the scenes, with our favorite host in the school! They very much enjoyed the experience and we were very happy too!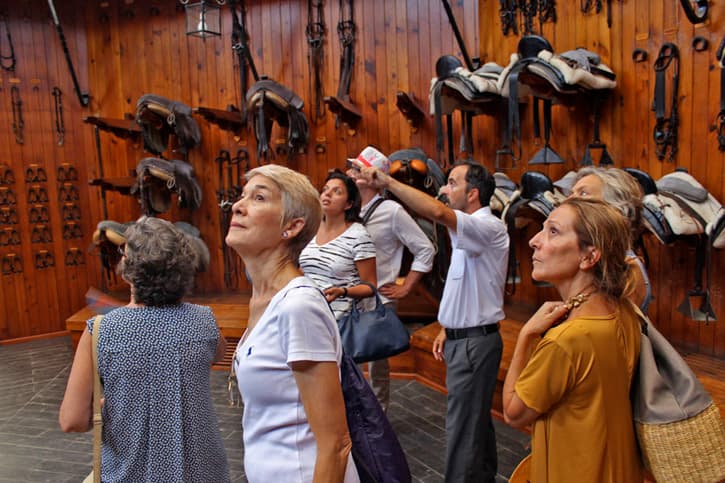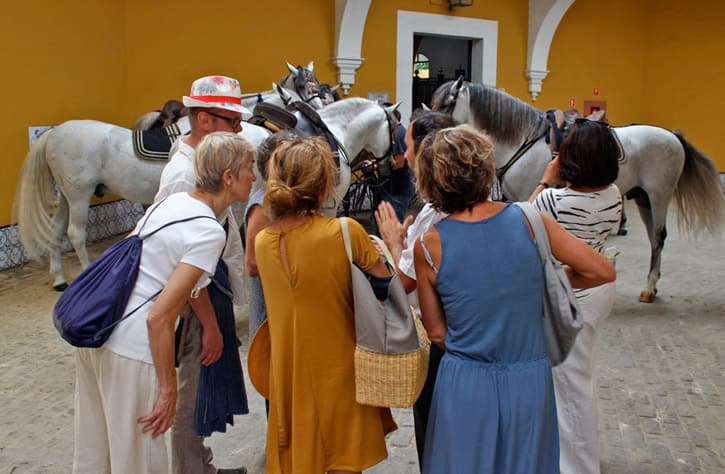 Every friends trip to Southern Spain should include a sherry wine tasting.
So we then drove them to one of our favorite Sherry bodegas in Jerez old town. This is a very small one specialising in Very Old Rare Sherries and Brandies.
Upon arrival, we were welcomed by the Sherry ambassador we are most fond. She showed us around the bodega while she explained the ageing process of the different Sherries. The visit continued with the corresponding tastings and with the second surprise of the day!
We hadn't told our guests that the owner of the sherry bodega keeps a very important part of his magnificent private art collection there.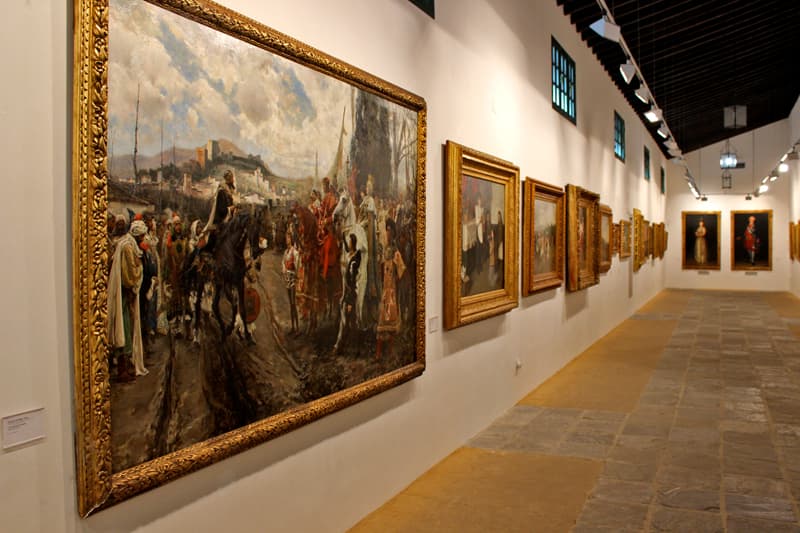 Paintings by Goya, El Greco, Murillo, Velázquez and Zurbarán, amongst many other remarkable Spanish artists, are on display in a designated area of the bodega and our guests got to see them with a glass of 45 year-old sherry in hand!
Southern Spain has many other fabulous art spots but we have to admit that we have a weakness for this one.
Then it was time for lunch, so we took our guests to our favorite local restaurant in Jerez. There they had a fabulous meal.
We ordered a series of "raciones" (portions in Spanish) that they all shared while we talked about the fabulous experiences of the day and about our warm hosts.
This way, our guests got to taste many of the culinary wonders that Andalusia has to offer: iberian ham, grilled iberian pork, fresh artichokes, king prawns from the Atlantic coast and eggplant with honey and payoyo cheese.
Food plays a most important role in Spanish culture and this group of friends enjoyed the magical atmosphere of joy and thankfulness that surrounds a table in which Spanish food is shared.
It had been a long day already! So we then took our guests to rest in order to pick them up again later with renewed energy for the evening program. The highlight of this was… a very special flamenco performance!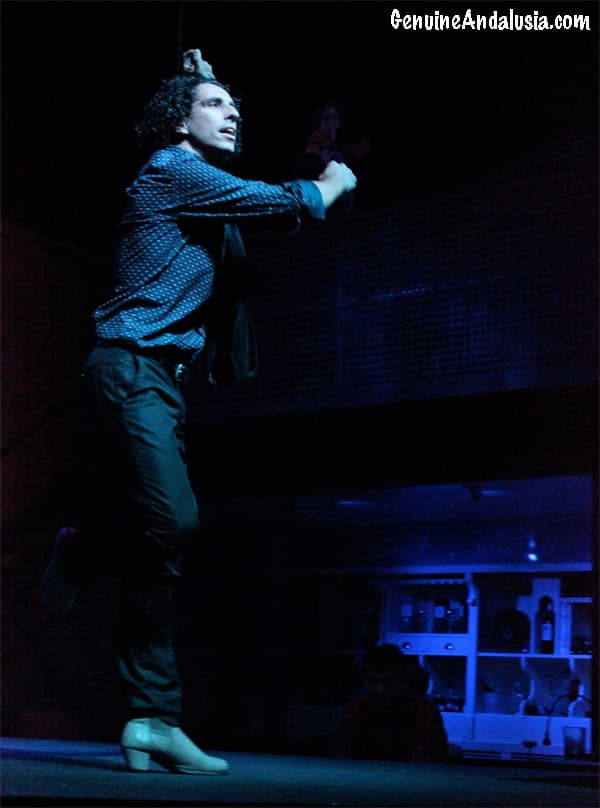 After sunset, we restarted our adventures by going to a delightful flamenco venue. There, 5 local performers of incredible talent offered our guests a show filled with magic, passion and authenticity.
Two singers, two dancers and a guitar player that we absolutely admire kept our guests with their jaws dropped for a good hour.
After the show, our guests were all questions: where does flamenco come from?, where did the performers learn to sing, play and dance?. Where do they get the inspiration for the lyrics?… Then the final surprise came!
Our guests got to interact directly with the performers and to ask them all these questions and many more! We were immensely moved by this interaction as well, where everybody was enriched and were able to learn through direct contact with another culture.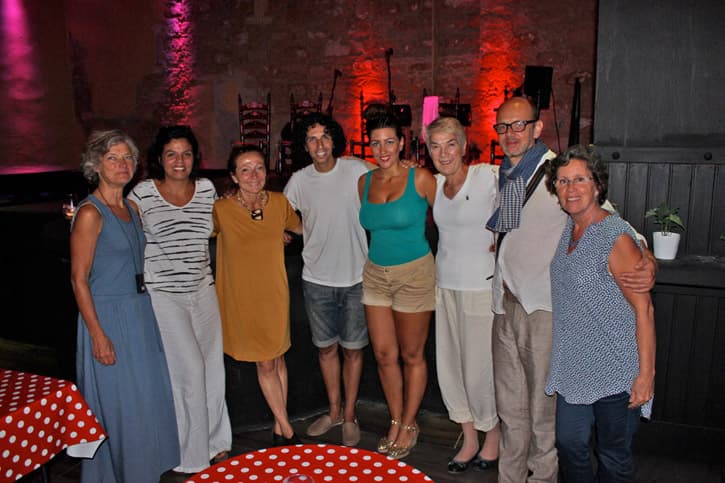 We will always be thankful to this incredibly kind group of guests and of course to all the people involved in making this friends trip to Spain possible.