5 travel itinerary ideas for Andalusia, Southern Spain
Planning a great trip to Andalusia without knowing Southern Spain well is not easy but we are here to help! In this article we have compiled 5 Andalusia travel itinerary suggestions, ranging from 4 to 10 days.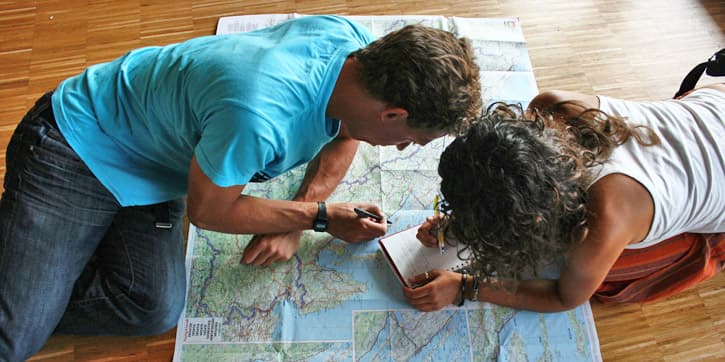 But first, you may be wondering:
Then, with all this background information, we recommend to check out our 5 Andalusia travel itinerary suggestions:
Finally, after reading our travel itinerary suggestions for Southern Spain, you may have at least two more questions:
Now, let's start!
What's the most convenient city to start an Andalusia travel itinerary?
We recommend to start your Southern Spain travel itinerary in Seville. This will make an epic start for your trip to Andalusia.

Besides, Seville is probably the most convenient city to start a trip through Andalusia. Getting to Seville is easy. The city has a good international airport, which is only 20min by car from the city centre. There're also high-speed trains to Seville departing from Madrid approximately every hour and the journey takes only 2'5 hours. If your flight to Spain arrives in Barcelona, it is also easy and affordable to fly to Seville from there. Vueling is a convenient airline to fly from Barcelona to Seville and the flight takes only 1,5 hours.
What's the best way to travel around Andalusia?
Trains are very comfortable and punctual in Southern Spain but the railway network is limited to the main cities. If you are willing to include whitewashed villages, natural parks, smaller towns and rural areas in your Andalusia travel itinerary, a road trip is the best option. Therefore you will need a car.
The roads in Andalucia are excellent and there are many offices of the usual international car rental companies. However, getting in and out of the historical centre of Southern Spanish towns and cities by car is not fun. Extremely narrow streets, a serious lack of outdoor places to park and very confident pedestrians walking and crossing as if cars didn't exist are very common in the old city quarters. These areas were not designed for cars, so you will enjoy them immensely as a pedestrian but definitely not as a driver.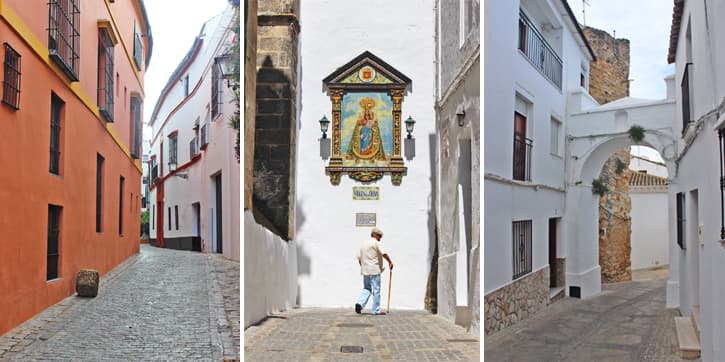 Because of this, our recommended way to travel around Andalusia is with a private professional driver. This option will save you the stress of driving, finding your way and parking as well as the worry to not damage your car while navigating the narrow streets of Southern Spanish historical centres. Besides it will save you the time to manage a car rental, to study all the insurance options and to plan your route. Also, it will give you total freedom to enjoy the fabulous Southern Spanish wines! Finally, we invite you to take into consideration the value that having a local person with you will add to your trip.
If you are still thinking about driving yourself, we strongly recommend to not venture into any of the historical centres of Southern Spain with your vehicle. Leave your car outside the old town and take a taxi from there to the historical centre. This will save you a lot of stress, time and energy.
What's the best time of the year to travel to Andalusia, Southern Spain?
Andalusia in January – February – March
This is our winter, which is generally very mild and dry. Minimum average temperatures range from 2ºC (Granada) to 10ºC (Cadiz) and maximum average temperatures range from 17ºC (Granada) to 21ºC (Cadiz). The average of rainy days per month during this period is between 4 and 7. As for hours of light, the shortest days of January have 10 and the longest days of March have 12,5. So still, plenty of hours of daylight to enjoy!
These months are ideal for the low-season traveller. Hotel prices drop significantly, reservations are generally not necessary in restaurants and tickets for landmarks can be bought on the same day easily. Also, ski lovers are in for a treat with a trip to Andalusia in January, February or March as Sierra Nevada, our regional ski resort with a total slope length of 106.8 km, is open throughout these months. Regarding local festivals, the city of Cadiz celebrates a fun and wild carnival in February, which lasts for a good two weeks!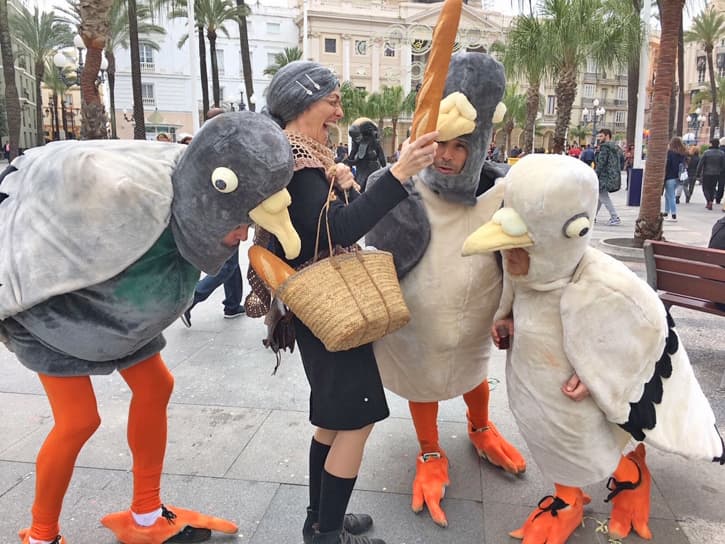 Andalusia in April – May – June
Spring is by far the most cheerful season to visit Andalusia. It's during these months when the vast majority of traditional local festivals take place. Amongst them, the so-called "ferias" (Spring fairs) are a real highlight of this time of the year.
These are preceded by the processions of Semana Santa (Easter week), which are the fascinating manifestations of fine art and religious fervour that flood the streets of our cities and towns from Palm Sunday until Resurrection Sunday every year (Covid19 permitting).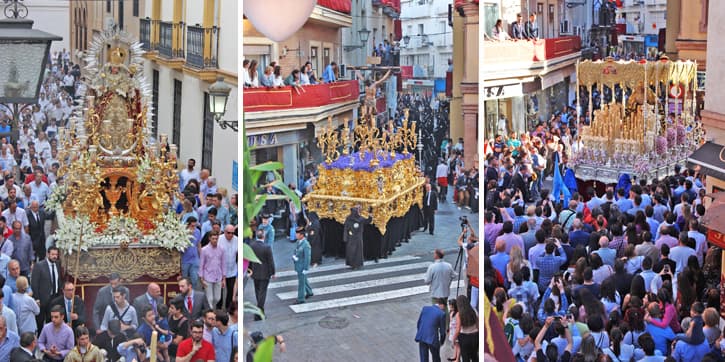 As for temperatures and rainy days, Spring in Andalusia is ideal. Minimum average temperatures range from 8ºC (Granada) to 14ºC (Cadiz) and maximum average temperatures range from 17ºC (Granada) to 32ºC (Seville). The average of rainy days per month during this period is between 1 and 6.
Andalusia in July – August – September
The Summer in Southern Spain is warm and dry. Temperatures are most pleasant in the morning and in the evening. Afternoons can be very hot (average afternoon temperatures range from 28ºC to 36ºC), so it's best to spend them somewhere cool. That's why we recommend to include hotels with a pool in your Andalusia travel itinerary if you are planning your Southern Spain trip for the months of July, August or September.
Our recommendation to make the most of your days during a trip to Andalusia in the Summer months.
What we locals do to cope with these hot afternoons is to split our daily activity into two slots. We wake up early in order to get as many things done as possible in the morning, before the heat comes. Then we usually come back home to rest and come out again when the sun sets, to enjoy the evening. That's why cities seem dead from 3pm to 7pm approximately.
Summer evenings are long and magical in Southern Spain. Andalusian people love staying out until late to enjoy the relief of having more gentle temperatures after a hot day. We strongly recommend to take a siesta in the afternoon in order to gather energies for a slightly extended evening. We also recommend to wake up early if you want to do and see things during the day. It will be hard to wake up early after a slightly late night but you have your recommended afternoon siesta to look forward to and to push yourself to get up!
July, August and September are common months to vacation amongst Spaniards, who usually go to the coastal areas of Spain itself. Because of this, non-coastal destinations are rather quiet during the Summer and hotel prices drop slightly. This is the case of cities like Madrid, Seville, Cordoba and Granada. However, coastal destinations such as Cadiz and Malaga are the busiest during the summer and hotel prices rise accordingly.
Andalusia in October – November – December
Autumn is an ideal time of the year to travel to Andalusia. During these months travellers will enjoy a relaxed low-season ambiance and gentle post-summer weather. Minimum average temperatures range from 3ºC (Granada) to 11ºC (Cadiz) and maximum average temperatures range from 23ºC (Granada) to 26ºC (Seville). As for rainy days per month, the average ranges from 4 to 7.
Cities recover their normal dynamics by mid October, when everybody has come back from their holidays and re-adapted to their routine. Hotel prices start to drop significantly a couple of weeks later (late October).
November is a great month to experience the regular local atmosphere and dynamics of Southern Spain as there are neither many tourists nor any major festivals. The next big regional festivals are Zambombas of Jerez, which start in early December and last until just before Christmas. Zambombas are definitely worth attending if you enjoy experiencing local traditions. No other city in Spain celebrates the arrival of the winter festive season like Jerez.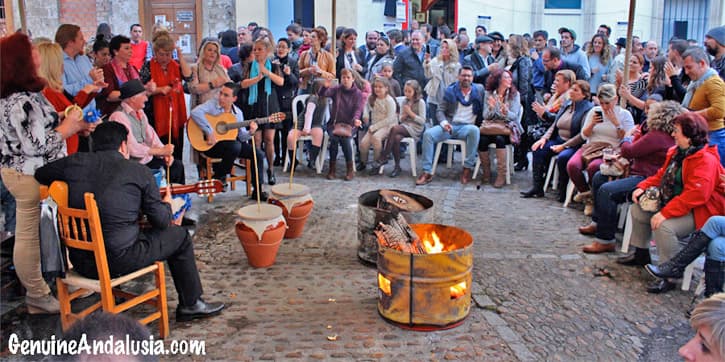 Do I need a visa for my trip to Andalusia, Southern Spain?
US travellers are exempt from the requirement to be in possession of a visa to enter Spain for a stay of less than 90 days. For other countries please check the corresponding entry requirements with the Embassy of Spain in your country.
Do you recommend to buy travel insurance for a trip to Southern Spain?
As a specialist travel agent, we strongly recommend to buy travel insurance for all foreign travel. The effort to buy travel insurance is too small compared to the complications that may arise in case of an unexpected medical issue while abroad.
Is Andalusia a good destination to travel with kids?
Absolutely! Spain is a very family-oriented country, so kids are most welcome pretty much everywhere. The vast majority of hotels, restaurants, shops, museums, monuments and culture spaces in general will offer kids a warm welcome. The same applies to seniors, who are very respected in Spain as our local ones are an important part of our families and communities. Southern Spanish cities and towns are great destinations for family travel. There are also great options for outdoors family adventure travel in rural areas.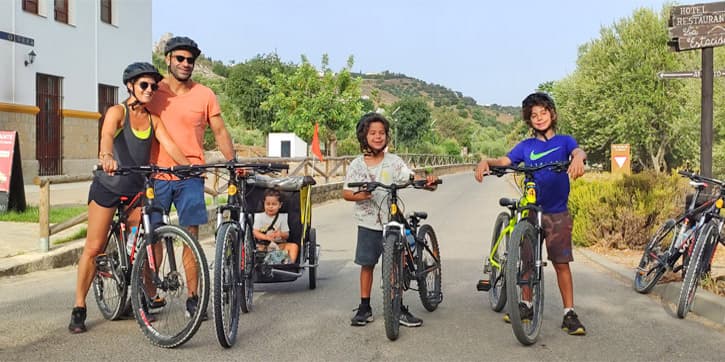 How many days should an Andalusia travel itinerary include?
We believe that 4 days is the shortest time one should spend in Andalusia and we understand that more than 10 days is probably beyond the average international trip for most 21st century travellers. Because of this, we suggest 5 different itineraries for travel to Andalusia ranging from 4 to 10 days.
Where to stay along an Andalusia travel itinerary
These are our hotel recommendations for each of the cities where we suggest to stay in our 5 Southern Spain travel itineraries. We love boutique hotels, so you won't see any big chain hotels in our list.
Where to stay in Seville:
5 star hotels: Mercer and Palacio de Villapanes.

4 star hotels: Casa del Poeta and Casa 1800 Sevilla.
Where to stay in Cordoba:
5 star hotel: Palacio del Bailio.

4 star hotel: El Balcon de Cordoba and Casas de la Judería.
Where to stay in Granada:
5 star hotel: Palacio de los Patos.

4 star hotel: Villa Oniria.

(*) There's also a fabulous superior 3 star hotel: Casa 1800 Granada
Where to stay in Jerez:
5 star hotel: Casa Palacio María Luisa (our favourite hotel in Andalusia actually).

4 star hotel: Palacio de Garvey.
Where to stay in Ronda:
4 star: Hotel Soho Boutique Palacio San Gabriel (in town) and Hotel Fuente de la Higuera (in the country).
How do I add unique experiences, magic and value to my Andalusia travel itinerary?
Contact us! We will be most happy to listen to your preferences and expectations for a dream trip to Andalusia and to add context, meaning, depth and value to it. We love to help our guests connect to the essence of our homeland through authentic local experiences. Having an Andalusia trip planner is the best way to maximise your time and your enjoyment before and during your trip.
Meaningful encounters with the local community, immersive journeys into our traditions, outdoor adventures, access to places that are not open to the public and a good interpretation of everything will help you to understand what Andalusia is really about, with us as your local hosts.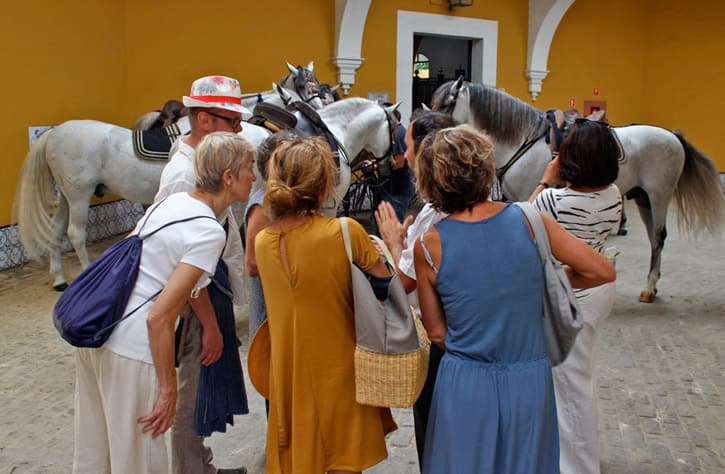 We are a local specialist travel agent born in 2013. We design and conduct private customised trips to Andalusia with a special focus on culture & lifestyle, food & wine and outdoors & nature. Our bespoke trips are a combination of selected tours and experiences with personal local hosts, private transportation services in modern and comfortable vehicles with impeccable drivers and accommodation in hand-picked hotels.

About the author
Iván Ricoy is a travel agent for Spain trips specialised in the Southern region of Andalusia.