Jerez restaurants with a new concept: AQ35
The region of Jerez de la Frontera (or simply Jerez) has one of the best, yet undiscovered restaurant scenes in Spain. The local population is very aware of this and celebrates the fabulous variety of Jerez restaurants. However, this remains unknown to most foreigners. Why? Let us explain.
There's no denying that where there is good wine, there are discerning palates and therefore there is also good food. Right?. The thing is that not many people know that some of the best wines in the world can only be produced in the region of Jerez. We are talking about Sherry wines.
If we add to this that Sherries are exquisite wines to pair with food, it is easy to understand why the region of Jerez has fantastic restaurants offering superior culinary experiences.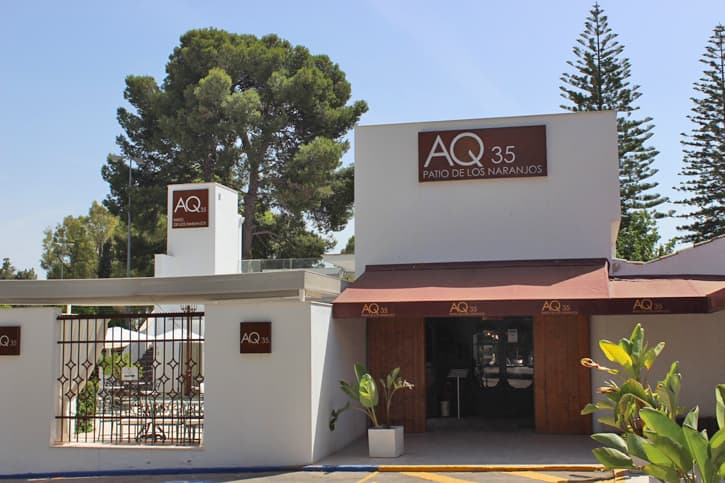 A good example is restaurant AQ35, located in Avenida Álvaro Domecq no. 35. Take the first and last letters of the restaurant address, then the number and you will have the creative process behind its name.
Formerly known as "El Patio de los Naranjos", this is the adjoining restaurant of 4* Hotel Jerez & Spa, although it is also a great option for guests staying at the nearby 5* Hotel Villa Jerez.
This Jerez restaurant has not only a new name but also a whole new concept based on a recent renovation and a new menu. All these changes were aimed at creating a new atmosphere too. Let's find out about it.
A clever renovation to attract local Jerez clients to the restaurant
El Patio de los Naranjos was a restaurant only accessible through the hotel Jerez & Spa building. While this was convenient for hotel guests, it isolated the restaurant from the surrounding streets, thus making it not so accessible to non-guests.
AQ35 has now a direct access from the street, next to the hotel entrance. This now makes the restaurant equally accessible to hotel guests and non-guests.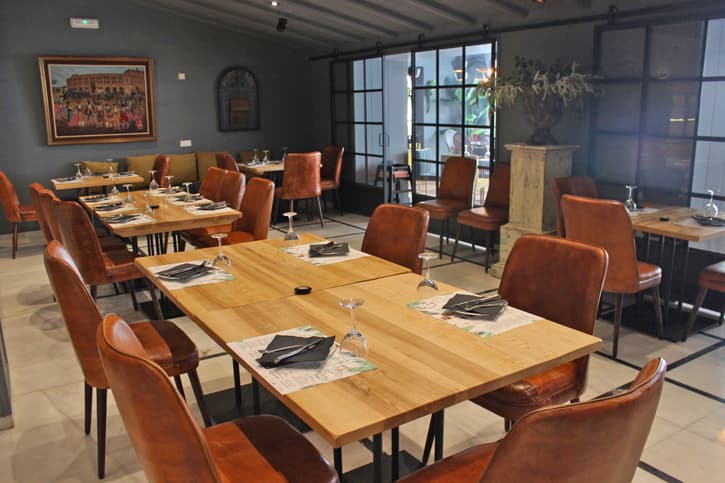 Also, its indoor dining areas have been extended towards the street and given large windows. This makes them more visible from the street and also allows clients to feel more connected to the city of Jerez.
The goal of these renovations was to create a restaurant thought for both locals and hotel guests. We believe it is a great initiative as it will help guests feel that they are staying next to a great Jerez local restaurant, thus alleviating the perception of a secluded tourist bubble. Likewise, the concept allows for Jerez residents to enjoy eating in a local restaurant with an international atmosphere.
We very much liked the idea as we love to help our guests have encounters with the local community during our private tours of Andalusia, and viceversa. It's one of the pillars of what we like to call Constructive Tourism.
A refreshed restaurant menu where international and local Jerez dishes coexist
This new concept of creating a space for both locals and visitors to enjoy is also present in the new menu of the restaurant. A menu that shows reverence towards local produce and that includes both traditional Southern Spanish recipes and some international ones.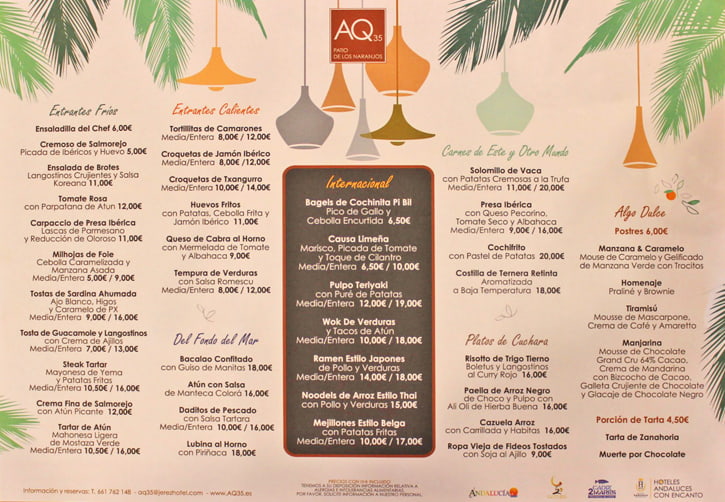 This offers a wonderful opportunity for visitors to immerse themselves into the local gastronomy of Jerez region and for locals to travel to countries such as Peru, Mexico, Belgium, Japan and Thailand through selected foreign dishes.
The ingredients are the same in each case: fresh seafood from the near Atlantic Ocean (wild red tuna caught in the Almadraba, sea bass, baby shrimp, king prawns, octopus and squid), Iberian pork, Retinto Beef, fresh fruits and vegetables and of course sherry wine!
Here's a selection of the dishes we liked best when the management of AQ35 invited us to try the new menu: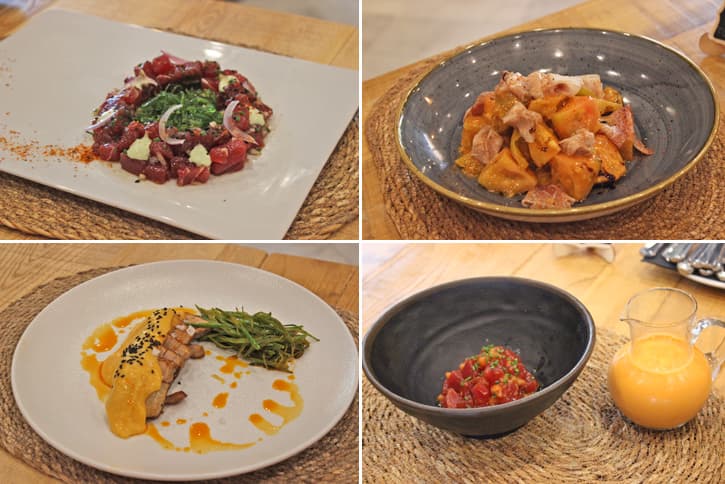 From left to right and from top to bottom: Red tuna tartar with green mustard, pink tomatoes with red tuna, red tuna with paprika pork-lard sauce and fine cold tomato soup with spicy red tuna.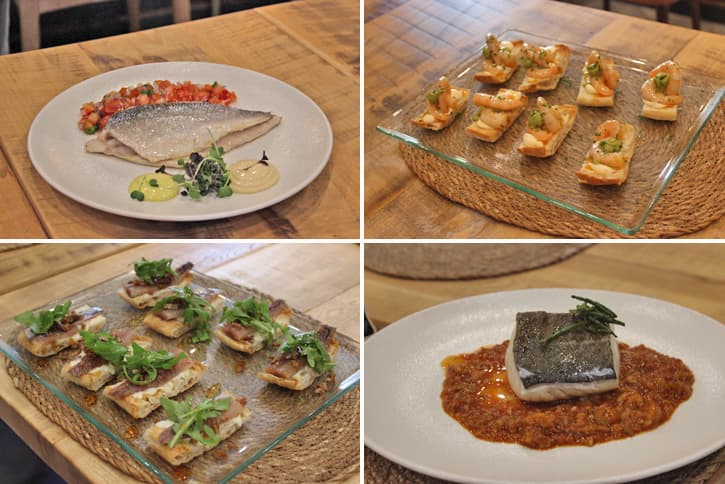 Baked Sea Bass with thinly diced tomatoes, peppers and onions, toast of guacamole, king prawns and garlic sprouts, toast of smoked sardine, ajoblanco, figs and sweet sherry, cod confit with a sauce of pork trotters.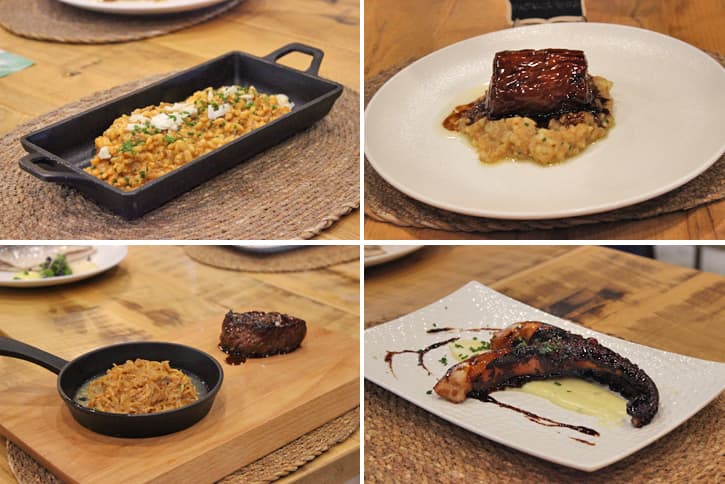 Wheat risotto with boletus, king prawns and red curry, cochifrito with potato pie, beef sirloin with creamy truffle-scented potatoes, octopus in teriyaki sauce.
There were also some great desserts but we will leave those to surprise you when you visit the restaurant!
A great addition to the vibrant restaurant scene of Jerez region
Jerez region already had a fabulous culinary scene including 3 Michelin star restaurants gathering 5 stars in total, other selected restaurants with exquisite Sherry pairing menus, wonderful ventas and legendary sherry taverns with great tapas.
Now it also has AQ35. A new restaurant option that must be taken into consideration by both locals and visitors willing to experience a new hospitality and gastronomy concept.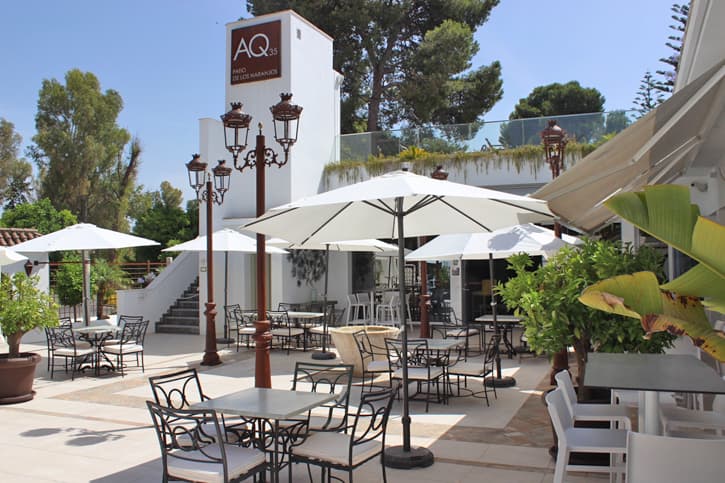 If you are a food and wine lover and are planning a vacation to Southern Spain, you are in for a treat with a trip to Jerez, be it a city break, a day trip from Seville, from Marbella or from the coastal towns along the Costa de la Luz.
And if you would like to experience the food and wine wonders of Jerez and Southern Spain with a local expert, don't hesitate to contact us. We are a Spain travel company specialist offering private custom tours of Andalusia with a special focus on food & wine, culture & lifestyle and outdoors & nature.
We can take you on an immersive discovery journey of our gastronomy and wines including selected taverns, artisanal sherry wineries, cooking workshops in private homes and visits to vineyards closed to the general public.