Rediscovering Rota, Spain: things to do, wines to taste and new restaurant options to try!
Rota is a delightful coastal town in the Southern Spanish province of Cadiz, that we love to visit every so often. Famous amongst Spaniards for its long sandy beaches and gorgeous weather, Rota also has a particularly vibrant food and wine scene. In this article we offer an overview of what to do in Rota to later share our latest local food and wine discoveries. ¡Vamos!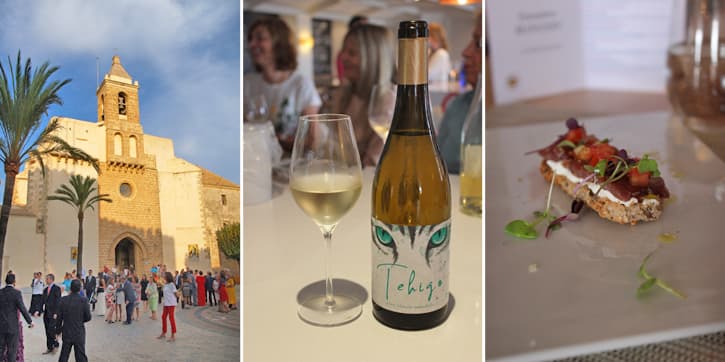 What to do in Rota, Spain
Stroll around its impeccable old town and visit its surprising landmarks
Rota old town is well worth a relaxed walk. Amongst its narrow whitewashed streets and remains of the old city gates, you will find an impressive medieval castle dating from the 13th century (Castillo de Luna) and a majestic main Church (Nuestra señora de la O) dating from the 16th century.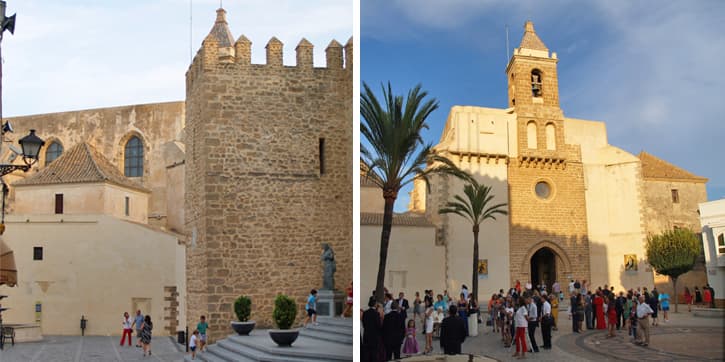 These two landmarks are an absolute must in our opinion. This is not only because of their beauty and historical interest but also because of the authenticity that surrounds them.
Local homes, casual bars, a relaxed local ambiance and a general lack of tourist tack add an extra charm to the oldest sections of Rota.
Visit the local market for a glimpse of everyday life
Rota is popular for its agriculture and fishing. Fruits, vegetables and fish from Rota are of excellent quality. One can see evidence of this in the local food market, where there are many stalls with fabulous local produce on display.
Also, the main food market in Rota has a few local bars serving coffee, food and drinks. This is where we recommend to start a food and wine journey of the town. Let's begin with some local wines!
Taste the new wines from Rota by Bodegas el Gato
On this last visit to Rota, we had the pleasure to taste the newest range of wines by local winery Bodegas El Gato. The name of this new range is Tehigo and it features two white wines (one dry, one semisweet) and one red.
Bodegas el Gato started in 1957 and has specialised since in fortified wines. However, the 4th generation of wine-makers in the family, led by Laura López and Ana Navarro (cousins), pushed the idea of launching a new range of non-fortified wines.
This new approach to wine making is also present on the labels of these new wines, which feature a modern illustration of a cat (gato in Spanish) designed by the local painter Carlos García Román.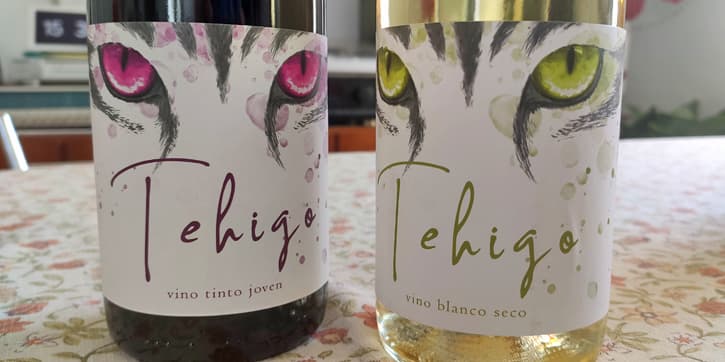 Tehigo dry white wine by Bodegas el Gato
This is a 100% Palomino white wine fermented at low temperature (15°C). This allows to extract all the aromas and subtleties of this rather stigmatised grape, which was always considered too neutral to make young white wines.
The new winemakers in the province of Cadiz, Southern Spain are now proving how much character the local albariza soil can give to 100% Palomino white wines. We believe that Bodegas el Gato has done a great job with their contribution to this new trend.
Their dry Tehigo white wine has that distinct minerality and salinity that the albariza soil is famous for as well as some interesting green fruit and floral notes.
Tehigo Semi-sweet white wine by Bodegas el Gato
This is also a 100% Palomino white wine fermented at low temperature (15°C), which keeps a small amount of natural sugar from the grapes.
We very much liked the idea of a slightly sweet white wine made with grapes often associated with dry sherries. The result is a very light wine with a slight sweet beginning and a very short and subtle aftertaste.
Tehigo red wine by Bodegas el Gato
This is a 100% Tintilla de Rota red wine, made with the technique of carbonic maceration. The goal of using this technique was to extract all the fruitiness from this grape, which is native to Rota, hence its name.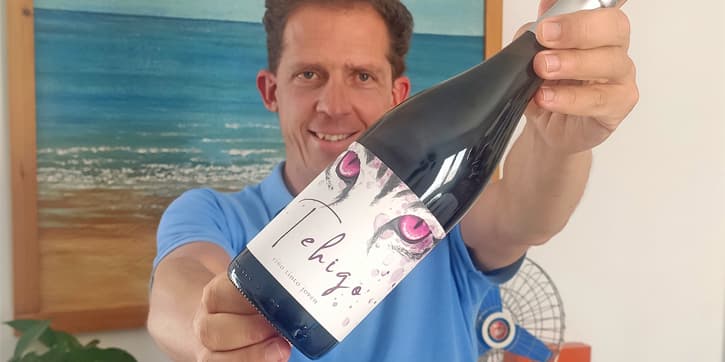 Tehigo Red is a young, light and fruity single-vineyard wine. With this wine Bodegas el Gato wants their Tintilla grapes to express all their potential. It has a spicy beginning that later gives way to an explosion of fruitiness that we found well suited to gentle Spring weather and light dishes.
These local wines are ideal to pair with the corresponding local dishes, so further below we give some recommendations on food and wine pairings from Rota.
Where to eat in Rota: local food festivals and recommended local dishes
There are fabulous places to eat as well as frequent food and wine events and festivals all year round in Rota. The most popular of these festivals is "Feria de la Urta" and it takes place every year at the end of June / beginning of July.
Urta is the Spanish term for red-banded sea bream and yes, Rota pays tribute to it not only with a food festival but also with its most popular local recipe. This is "Urta a la roteña" (red-banded seabream cooked Rota style).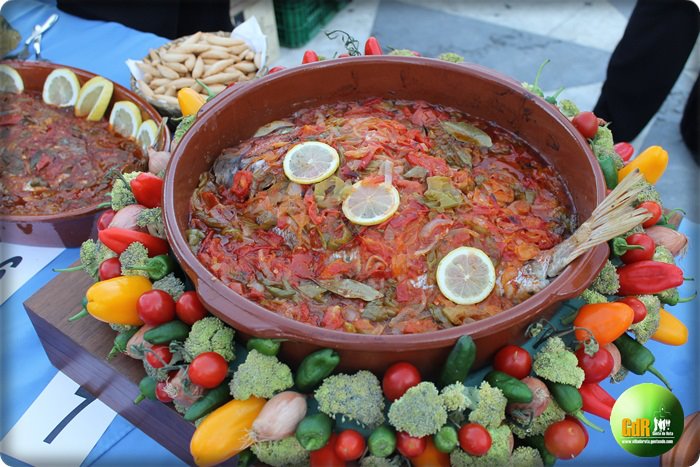 Urta a la roteña is one of the many dishes that you can try in Restaurante el Embarcadero. This is the restaurant of the 4 star hotel Duque de Nájera. A lovely hotel that is a stone's throw from the aforementioned landmarks and market, right in front of the Atlantic Ocean.
On our last visit to Rota, Javier Oliván, food and beverage manager of the hotel, invited us, through Pilar and Cristina from the local food blog Aprendiendo a Cocinar, along with other food bloggers, to try the new additions to the menu of Restaurante el Embarcadero.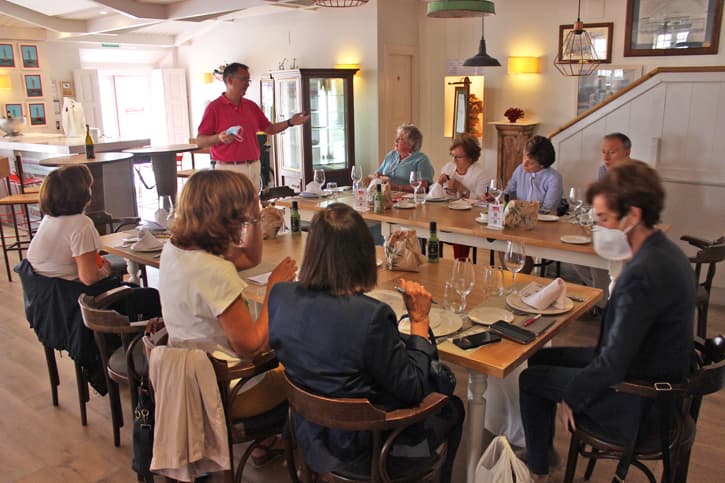 These new dishes are all by resident chef José Miguel Nuño, who graduated from the prestigious hospitality school Taberna del Alarbadero in Seville.
With a strong presence of local produce and organic ingredients, the new highlights of Restaurante el Embarcadero that we got to try are the following:
Homemade foie-gras
As the chef explained to us, this is a special preparation of duck liver cooked at low temperature. They decided to serve it with jelly and accompanied by gingerbread and homemade toasts.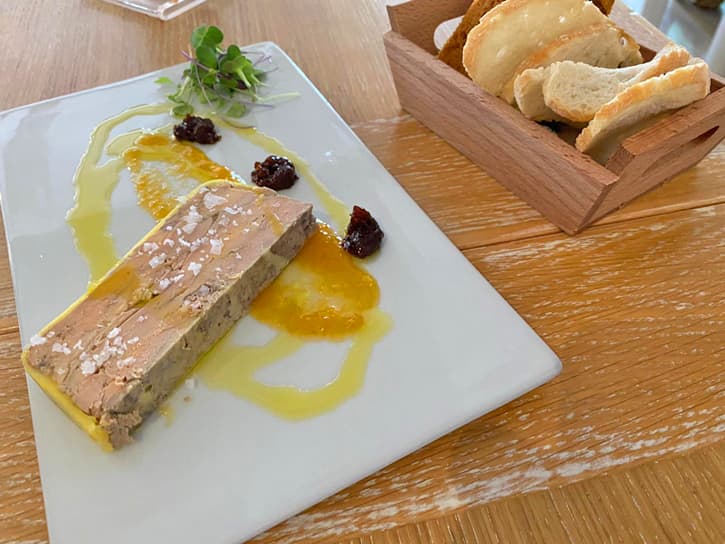 We found it specially interesting to try the foie-gras with the different types of bread it comes with. We loved the spiciness of the gingerbread and the smoothness of the foie grass. The icing on the cake for this combination of flavours came with the wine pairing that the restaurant chose for this dish. The semi-sweet white wine Tehigo from Bodegas el Gato.
Half cured tuna toast with creamy cheese and tomatoes marinated in olive oil
This was a vey interesting surprise. Cured tuna is very popular in Southern Spain but this half cured tuna was something totally new to us. We loved both its moist texture and delicate flavour.
The creamy goat's cheese (from local cheese factory El Bucarito) and the tomatoes marinated in extra virgin olive oil went great with the tuna and the crunchy bread. This was a winner of a starter that we paired with Tehigo dry white wine from Bodegas el Gato.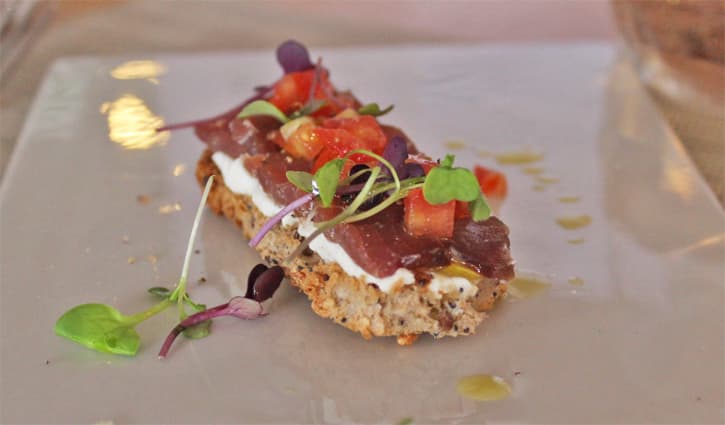 Croaker fish ceviche with red onion, citrus zest and tiger's milk with a touch of oloroso sherry.
The fish and the tiger's milk came apart at first. Then the chef poured the tiger's milk onto the thinly sliced raw fish. We enjoyed seeing this preparation and the different bites we took at different times, thus noticing the evolution of the fish flavour and texture in contact with the tiger's milk. From almost raw and fishy to cured and citrusy. Fun!. We paired this with Tehigo dry white wine too.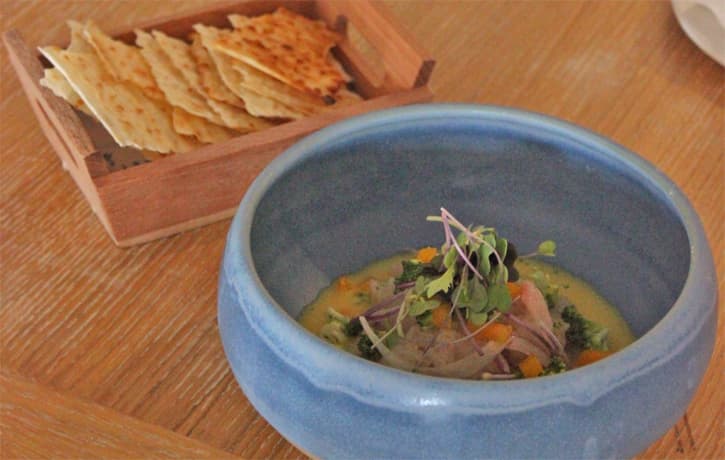 Stewed meat gyozas with hummus.
This was another fun and tasty surprise. Stews are common in Spain, specially in the winter months. The ingredients and the way they are cooked gives them a very distinctive flavour that we associate with specific presentations, but definitely not with gyozas.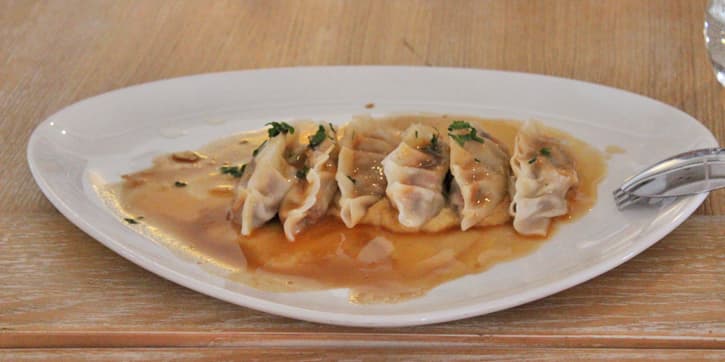 Eating gyozas that tasted exactly like a spoonful of a typical Spanish stew was something very original.
Prawns and squid with a free-range egg cooked at low temperature
This was a delicious combo. Fried small prawns and thin squid strips with a crispy texture, topped up with an egg cooked at low temperature. What a delicious combination!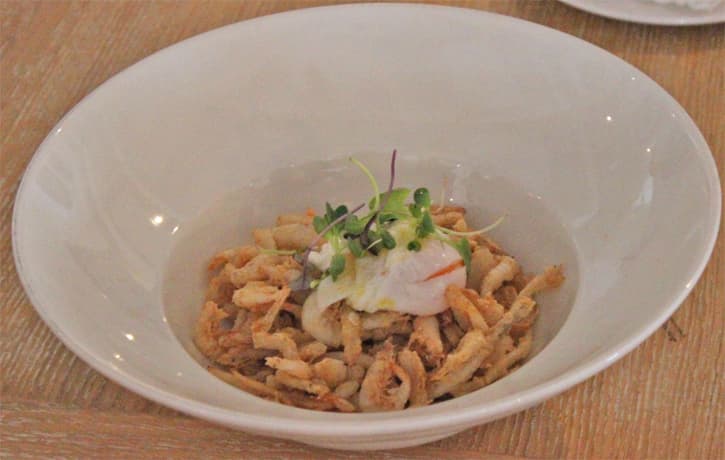 It reminded us of fried whitebait with fried eggs, which is a common dish in our regional cuisine. However we have to admit that the flavour of the prawns and of the squid made up for a better version of the dish indeed.
Fresh cannelloni bolognese with red curry, ras el hanout and coconut milk bechamel
We believe a combination of spices and coconut milk is always a safe bet, so we were not expecting anything very new. However we found the bechamel preparation a clever and original way to use the coconut milk.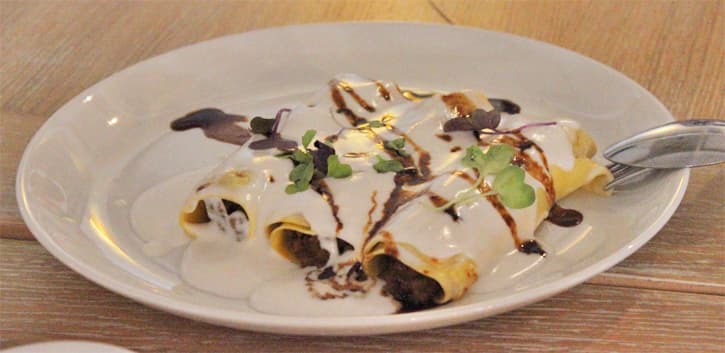 Then the cannelloni wrap made perfect sense to the dish, which combines different Mediterranean ingredients and one Asian one in a very well balanced fashion. We paired this dish with Petit Forlong, a great red wine from the nearby town of El Puerto de Santa María.
Tintilla wine ice cream and oloroso sherry ice cream with dried fruits sponge cake
We love ice cream and we love wine, so we knew this was going to be a winner of a dessert too and it was! The dish was presented with two scoops of two different wine ice creams. We very much enjoyed the different flavours of both, combining them and mixing them also with the sponge cake.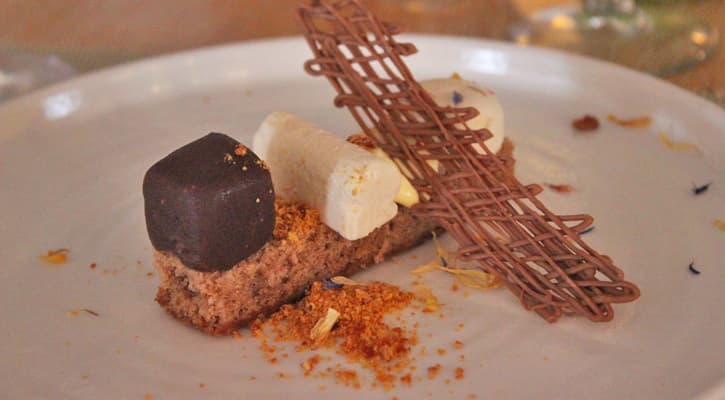 We also got to pair this dessert with a glass of sweet tintilla wine from Bodegas el Gato. This was not only fun but also delicious!
The concept behind this dessert was very interesting to us too: different wines from the same region together in a dessert, that was the icing on the cake to a great pairing menu!
Rota never fails to delight us. It is a gem of a town for many reasons. That's why we love to bring our guests to Rota during our custom tours of Southern Spain.
We are a Southern Spain travel specialist, crafting memorable bespoke journeys of Andalusia and beyond for very small private groups. Our tours have a special focus on food & wine, culture & lifestyle and outdoors & nature.
Learn more about our Southern Spain custom tours and vacations