Wineries to visit in Southern Spain: Bodega Miguel Domecq
We recently had the pleasure and the honor to visit Bodega Miguel Domecq. This is one of the few wineries to visit in the Tuscany-like countryside of the Southern Spain city of Jerez de la Frontera, or simply Jerez.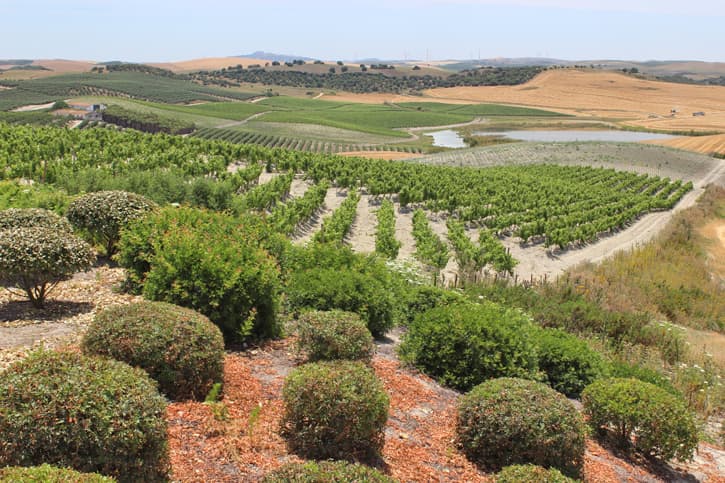 Most wineries in Jerez are in town and they produce the iconic fortified local wines (Sherries). However Bodega Miguel Domecq is fully focused on the production of Southern Spanish red, white, rosé and also sparkling wines!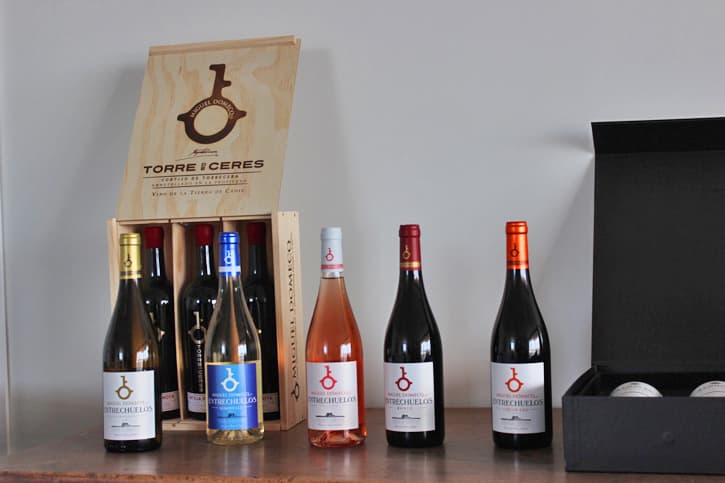 Fantastic non-fortified wines made in Sherry territory
Bodega Miguel Domecq has 45 Hectares of vineyards in an area of Jerez called pago de Torrecera, famous for its albariza soil. This soil has been traditionally associated with the Sherry industry. This is because for many decades, almost the only grape cultivated in Albariza soil was Palomino (the grape used for most sherries).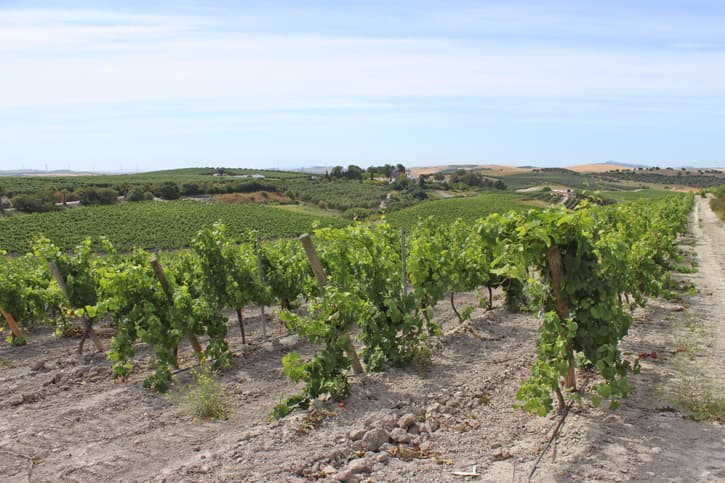 However we can see today both foreign grape varieties and old autochthonous ones on the rolling Albariza hills of Jerez. Bodega Miguel Domecq has selected Cabernet Sauvignon, Merlot, Syrah and Chardonnay from all the foreign grapes and an old autochthonous one (Tintilla de Rota) to make its wines.
All their grapes are carefully harvested at night and pressed at the property. The winery has its fermentation tanks, ageing rooms and bottling plant next to the vineyards. This allows for a smooth wine-making process, where the winery staff are in full control of every step.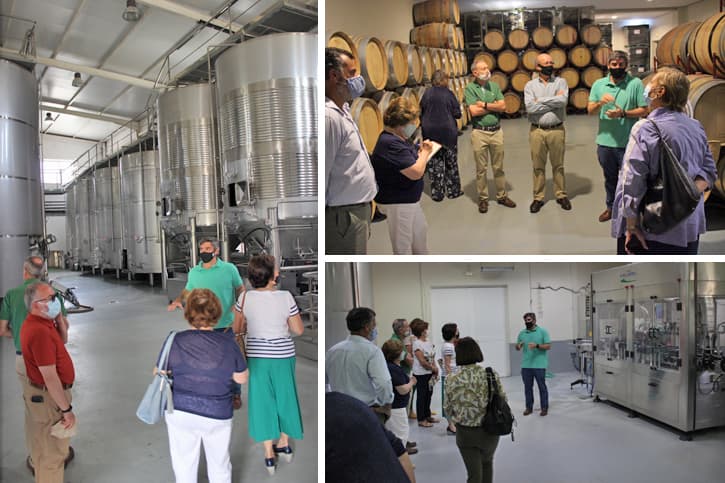 Tasting of red and white wines by Bodega Miguel Domecq
Of all the wines that bodega Miguel Domecq makes, we did a tasting of five (two whites and three reds) during our visit. The tasting was conducted by the oenologist of the winery (Joaquín Gómez) in a professional tasting room. These are our impressions of the wines we tasted: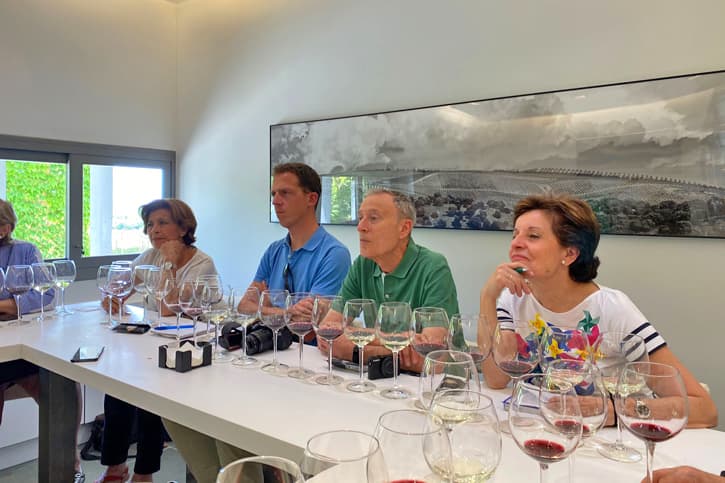 Entrechuelos Chardonnay Southern Spanish white wine (2020)
This a 100% Chardonnay white wine that we love in Southern Spain. We already knew Entrechuelos Chardonnay but the guided tasting that Joaquín gave us allowed us to understand much more about it. This wine has a fruity aroma with orange peel and grapefruit notes. On the mouth it is round and fresh, with a very well compensated acidity.
Entrechuelos semisweet white wine (2020)
This Southern Spanish white wine is a blend of Chardonnay and local Moscatel grapes (grown in another property). It is similar in color to Entrechuelos Chardonnay but with very elegant and subtle sweet notes on the nose and mouth. We were very surprised with Entrechuelos semisweet as we are not big fans of semisweet whites. However, we can definitely see ourselves now sipping a cold glass of this wine as an aperitif.
Entrechuelos tercer año red wine (2017)
This Southern Spanish red wine is a blend of Cabernet Sauvignon, Merlot, Syrah and Tintilla de Rota grapes. It is aged for 11 months in french oak barrels (both new and used) and 16 more months in bottle prior to release. It has aromas of red berries and also some subtle balsamic ones. On the mouth it is potent at first but then it has a pleasant aftertaste with the aforementioned notes of red berries and also some of cocoa and coffee.
Entrechuelos premium red wine (2016)
This red wine is also a blend of Cabernet Sauvignon, Syrah, Merlot and Tintilla de Rota. It is more complex and full-bodied than Entrechuelos Tercer año. The red berry and balsamic notes are deeper in the case of this wine and it has stronger notes of wood too. It is also more gentle in the mouth at first and more structured later.
Torre de Ceres. Tintilla de Rota (2018)
This is a 100% Tintilla de Rota red wine. It was our favourite red out of the ones we tasted. It is aged in french oak barrels (used ones) for 12 months. This helps to maintain all its fruitiness, as Joaquín explained to us. It is round, complete, fruity, herbal and refreshing and we found it more suited to the Southern Spanish Spring climate than the other reds.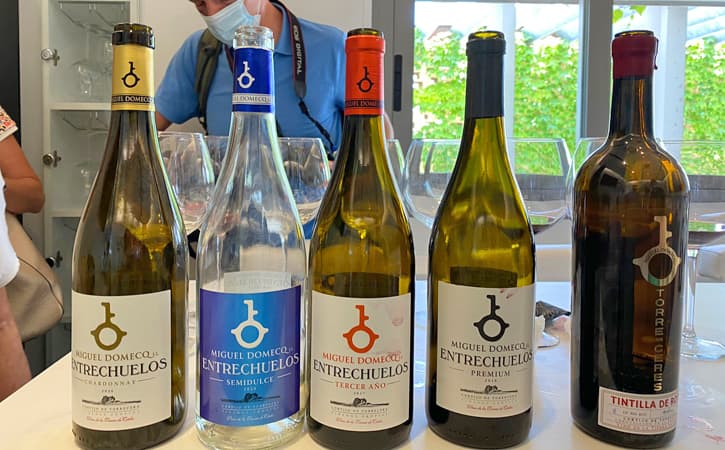 The icing on the cake for a great visit to a fabulous winery in Southern Spain: a delicious lunch paired with its wines
After the tasting we were guided to a lovely outdoor terrace overlooking the beautiful extension of land that Bodega Miguel Domecq owns. The views were breath-taking, the temperature ideal and there was a table filled with delicious food and wines from the winery.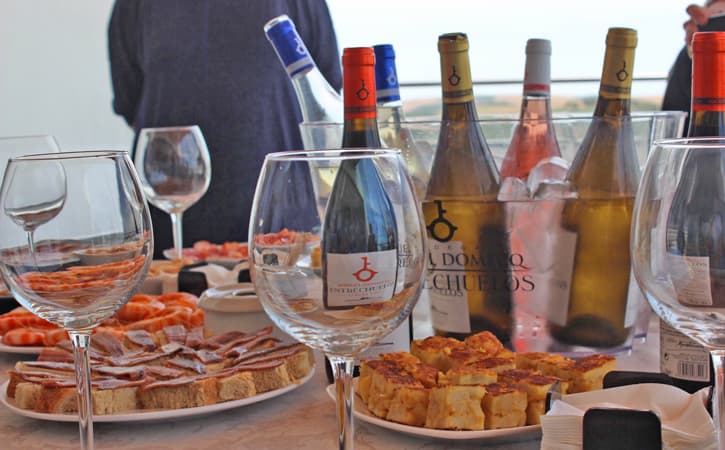 The visit was conducted by Joaquín Gómez (oenologist of the winery) but we also enjoyed the warm and friendly presence of Rafael Domecq (managing director), José Antonio Martínez-Caballero (export manager), Jaime Arias (marketing) and Marcos Luján (marketing). 
We visited the winery together with the food and wine bloggers from the province of Cadiz. These bloggers are not only dear friends of ours but also fabulous advisors and local hosts for our private food and wine tours of Andalusia.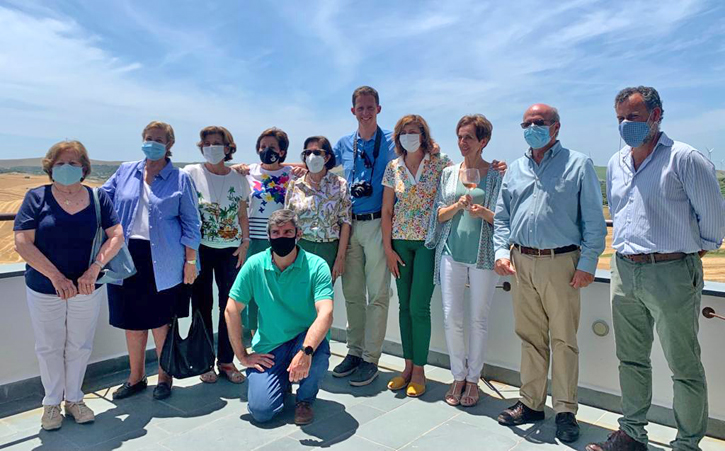 We had Pilar and Cristina from the blog Aprendiendo a Cocinar, Lola and Miguel from the blog La Fritada, Charo and Antonio from the blog Come en Casa, Pepi and Ángela from the blog Cuarto y Mitá and Tere and María Luisa from the blog of Grupo Gastronómico el Almirez.
Bodega Miguel Domecq offers different types of visits with and without food and the visitor can buy wine straight from them. This is something we couldn't resist!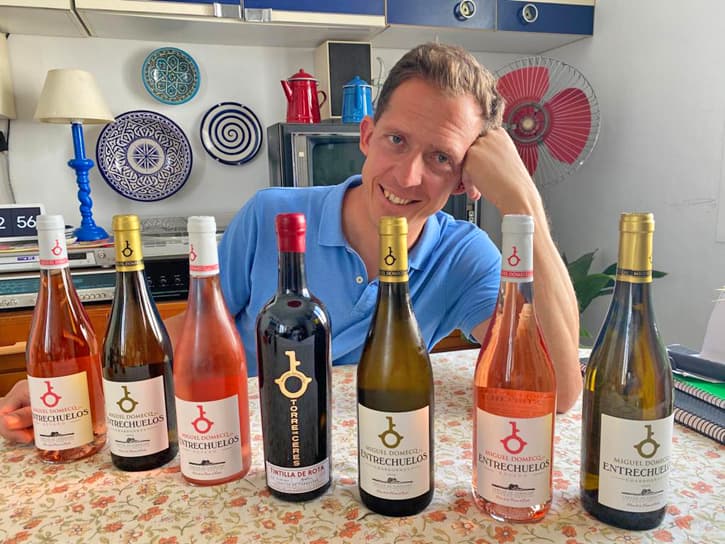 We had a memorable time and we'd definitely recommend to include Bodega Miguel Domecq in your list of wineries to visit in Southern Spain in order to learn about the wines that are made in Jerez beyond Sherry. Our visit was a promotional one, organised by the winery in collaboration with the the local digital marketing and design agencies Bring Connections and Criafama.
We are a Southern Spain travel specialist and we design and conduct memorable private trips of Andalusia and beyond with a special focus on food & wine, culture & lifestyle and outdoors & nature.
Learn more about our Southern Spain custom tours and vacations