Spain Travel Advisory 2021
Spain's borders are currently open but there are still a few restrictions for non-essential travel. As a Spanish incoming travel agent, we feel responsible for sharing essential and up-to-date Spain Travel Advisory information for 2021.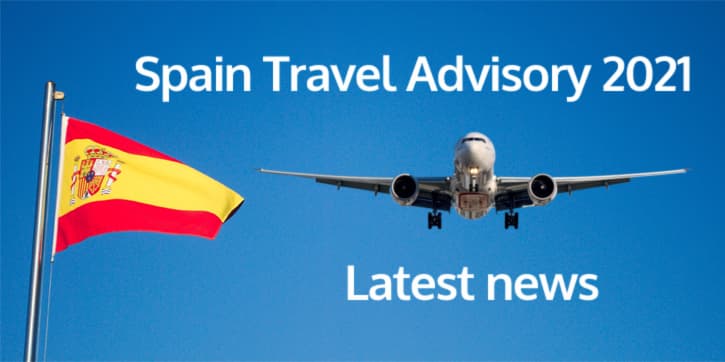 Also, further below we explain in detail the covid-19 protocols we have implemented in our Spain private tours and travel itineraries as well as updated information about the evolution of covid-19 vaccinations in Spain.
Can I travel to Spain?
It depends on where you are travelling from and on whether you can present some specific travel documents to the Spanish Health Authorities.
At the moment, travellers coming from the following countries are allowed by the Spanish government to enter Spain without any non-essential travel restrictions:
Canada

Australia

EU Residents unless they are traveling from EU areas at risk.

New Zealand

Japan

Singapur

South-Korea

China

Bosnia and Herzegovina

Jordan

Qatar

Republic of Moldova

Saudi Arabia

Ukraine
These travellers will only have to submit a health control form to the Spanish Health Authorities prior to their trip. They will then receive a QR code that they will have to show both before boarding the plane in their country of origin and at the health control upon arrival to Spain.
Also all travellers to Spain will have to undergo a health control at the first Spanish point of entry.
Travellers coming from the rest of countries or EU areas at risk are required to present the QR code mentioned above as well as a vaccination certificate in order to enter Spain (unless they are under the age of 12, in which case they will be not required to present this certificate):
The Spanish ministry of health has a dedicated website in English where it explains this information in detail and updates it periodically.
By visiting the Spain Travel Health official information, you can access the list of countries where travellers to Spain are exempt from any non-essential travel restrictions.
Can I travel to Spain from USA?
Travellers from the United States are now allowed by the Spanish government to enter Spain.
However they must get the aforementioned QR code from the Spanish Health Authorities and present a certificate of being fully vaccinated with an EMA/OS authorised vaccine with the last dose administered at least 14 days prior to arrival in Spain.
Does Genuine Andalusia recommend to travel to Spain?
Yes! Finally we can say that we do recommend to travel to Spain! We don't have either a nighttime curfew or mobility restrictions anymore. Our hotels and restaurants are open. Landmarks have reopened across the country too and best of all, there're not many visitors in any of them. Besides face masks are not compulsory anymore in open spaces. They are now optional.
Status of Covid-19 vaccinations in Spain
Spain has a population of almost 47 million. The first vaccines arrived in the country in December 2020 and were administered to seniors and healthcare and teaching professionals. 
The roll-out of the vaccines is now progressing. The Spanish Ministry of Health updates the information about the number of administered vaccines periodically.
Covid Protocols in our Spain private tours and bespoke travel itineraries
Following the recommendations of the National and International Health Authorities, we have incorporated the following measures into our Spain private tours and custom travel itineraries and vacations:
All our personal guides and private drivers wear FFP2 face masks throughout the tours.
All our vehicles are sanitized every night with Ozone generators.
We don't mix different people in our private tours of Andalusia. We have never done it actually.
We are prioritising outdoors seating areas over indoors ones for lunch, where possible.
Sanitizing gel and spare FFP2 masks are at the disposal of our guests throughout the tours.
Outdoors and nature activities and adventures are our recommendation over urban ones. Also we are recommending private villas and independent accommodation over hotels.
We are now offering private workshops and culture activities in these private villas and other independent accommodation.
We hope this Spain Travel Advisory information for 2021 has been useful to you. Please don't hesitate to contact us should you need further information as we will be delighted to help.
We are a Spain travel specialist crafting memorable bespoke trips for very small private groups. The three main pillars of our tours are culture & lifestyle, food & wine and outdoors & nature and the three concepts describing our services best are comfort, beauty and authenticity.